Future Streets
Our ambitious plans for cleaner, greener, safer travel.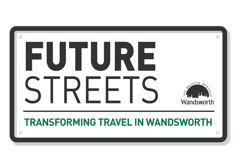 Our Future Streets strategy outlines a new far-reaching package of cleaner, greener and safer active travel choices for residents.
Future Streets will deliver a range of sustainable active travel options within the borough.
About the strategy
The Future Streets strategy includes:
Key goals
The Future Streets strategy aims to:
Increase the number of journeys made on foot, by bicycle, and on public transport
Improve pavements and walking routes
Reduce unnecessary car usage
Minimise congestion
Boost people's health and well-being
Raise air quality standards
Provide cheaper travel options and cushion the impact of the cost-of-living crisis
Make our roads and streets safer for all
Support the aims of the Wandsworth Environment and Sustainability Strategy (WESS)
Videos
Cllr Jack Mayorcas, our active travel champion, talks about better facilities for cyclists and pedestrians, including a proposed cycle route on Burntwood Lane:
Information on active travel
Active travel can offer a convenient, accessible and affordable way to travel around the borough. Active travel is also free and has no adverse impact on the environment or congestion. It is often surprising how quick it is to walk or cycle somewhere instead of going by car or bus.
Read our tips for promoting walking in your workplace.
You can also join our Walk4Life led walks, organised by Enable to help you get fitter and healthier.
National Walk to Work Week takes place each year. Visit Living Street for tips on how to get your friends, family, and colleagues walking.
Living Streets (formerly the Pedestrians Association) and the Ramblers Association are national organisations that promote walking and campaign to improve conditions for walkers.
There are a number of walking routes that run through the borough. Visit Walk London to find out more.
Use the free community-based walking app Go Jauntly to find new walking tours based on your location.
Find our more about cycle training in Wandsworth.
Find out more information about public transport options in Wandsworth.