Borough sets out bold new Walking and Cycling Strategy to deliver safer and more sustainable travel
Published: Wednesday, November 9, 2022
Safer streets for pedestrians and cyclists, reduced car usage and an improved public realm are at the heart of the council's new Walking and Cycling Strategy. It is an integral part of the borough's Future Streets initiative which aims to transform Wandsworth so that a Year 6 child can walk or cycle to school without encountering any road danger.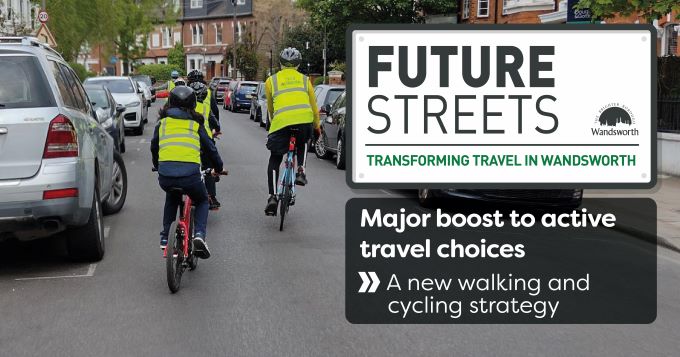 The strategy will:
Improve pavements, footpaths, pedestrian crossings and seating provision with a focus on accessibility.
Map quieter and cleaner air walking and cycling routes.
Add bike hangars including those with space for non-standard bikes like tricycles and cargo bikes.
Deliver more school streets to enable families to walk or cycle to school.
Create a high-quality core cycle network connecting popular destinations, with Cycleway standard routes on Queenstown Road, Nine Elms Lane, Garratt Lane and Burntwood Lane.
Promote contra-flow cycling, delivering more town centre cycle parking and public realm improvements.
The strategy outlines a series of actions and targets the council will adopt between now and 2030 to encourage and enable more walking and cycling in all parts of Wandsworth and help ensure it meets the borough's environmental and sustainability targets.
Key benefits of walking and cycling highlighted in the strategy include:
Walking, cycling and public realm improvements have been shown to increase retail sales on high streets by up to 30 per cent.
Over a month, people who regularly walk to the high street can spend up to 40 per cent more than people who drive.
People who are physically active have 27 per cent fewer sick days than their colleagues.
Seventy three per cent of London business improvement districts say walking and cycling are important for attracting and retaining staff.
The council's Future Streets initiative is delivering a wide-ranging package of measures to promote cleaner, greener, safer and more sustainable forms of travel.
Cabinet member for transport Cllr Clare Fraser said: "Our Walking and Cycling Strategy is a blueprint for what needs to be done to make walking and cycling a more attractive option for our residents. We are determined to make it a success.
"This strategy has a strong foundation. It has been compiled with input from councillors, council officers, stakeholder groups and thousands of Wandsworth residents of all ages and backgrounds. The answers we received from these discussions form the backbone of this strategy and will shape our investment priorities as we put these measures into effect.
"Our overall vision is to transform Wandsworth's streets so that a Year 6 child can walk or cycle to school without encountering any road danger. All residents, of all ages and abilities should be able to either walk or cycle to their destination in safety and find it an enjoyable and attractive travel choice."
The council has received grants from Transport for London worth around £3m to enact these measures, allowing these walking and cycling improvements to be delivered for the same low council tax.