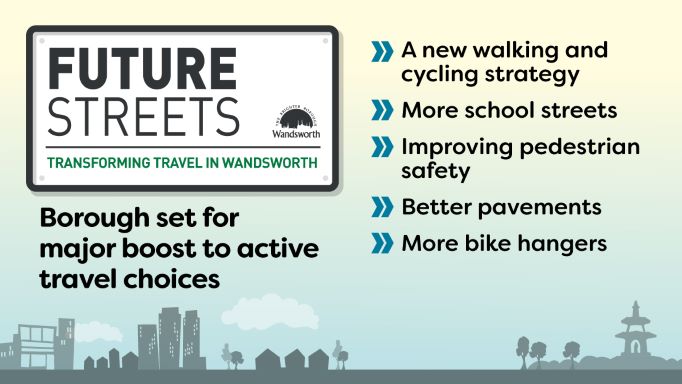 The new segregated cycle lane runs northbound over the bridge to the junction with Carnwath Road in neighbouring Hammersmith and Fulham.
It has been introduced as part of a temporary traffic order while discussions continue with Hammersmith & Fulham Council and also with Transport for London on the introduction of a more comprehensive set of walking and cycling improvements covering a wider area. 
Jenny Yates, Wandsworth's Cabinet Member for Transport said: "We've seen a big increase in the number of people cycling over Wandsworth Bridge in recent years. It's important that we implement measures that makes those journeys safer.
"Supporting and encouraging cycling as a means of transport and improving infrastructure for both cyclists and pedestrians are key priorities for the council as part of our Future Streets Strategy."
 
The new 2m wide cycle lane with its protective wands has been delivered as part of the bridge's recent repair project which saw its critical weight bearing parts replaced to ensure the structure remains stable and safe to use over the coming decades. 
The bridge's existing southbound cycle lane has also been retained making it safer for cyclists to travel over the bridge in both directions. A new northbound bus lane has also been introduced to improve bus journey times. 
The new cycle lane is the latest example of the work being carried out by the council to support and promote cycling – a key element of the town hall's efforts to improve local air quality.
Other examples include:
•    Increasing the number of bike hangars across Wandsworth with the total number now approaching 250.
•    Introducing a series of cycle contraflow schemes that offer cyclists safe short cuts along residential one-way streets 
•    Publishing a comprehensive Walking and Cycling Strategy.
•    Ensuring more responsible e-bike hire schemes with fewer pavement obstructions 
•    Introducing safer cycle routes in and around Putney High Street.
•    Supporting 'Try Before you Bike' schemes   
•    Working with businesses to increase use of e-cargo bikes for local deliveries
    
Jenny Yates added: "Many journeys in the city are relatively short and we want to support people to make them by bike or on foot if they can.
"Walking and cycling is good for health and wellbeing and helps improve the air we all breathe. That's why we are working hard to improve our cycling infrastructure to make it easier for people to unlock the benefits of active travel.
"Improving this infrastructure will play a pivotal role in achieving our target for 78 per cent of trips by residents to be by walking, cycling and public transport by 2030."
For more information about support for cycling in Wandsworth visit www.wandsworth.gov.uk/cycling.
Residents can request a bike hangar for their street via the council's website.
The website also contains information on the Future Streets Strategy as well as how the council is working with partners to tackle climate change, visit www.wandsworth.gov.uk/climatechange.