June 2021
Alton Newsletter - Summer 2021
Find enclosed your very own 'pull out and keep guide' to what's on during Roehampton Community Week, as well as updates on the almost completed block at Bessborough Road, Roehampton Shed reopening their workshop at Portswood Place, and much, much more!

Read Alton Newsletter.
Sign up to receive text alerts
We are setting up a text message distribution list. Residents will receive news and event information relating to the Alton Regeneration quickly and directly.

If you are interested in signing up to receive our text alerts, please call or text 020 8871 6207 or email us at roehampton@wandsworth.gov.uk with your name, address, mobile phone number and the subject line
'Alton text alerts', and we will add you to our SMS distribution list.

April 2021
Petersfield Rise landscaping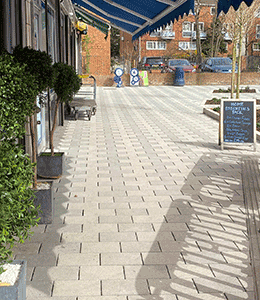 As part of the Bessborough Road development works, local residents, shoppers and visitors to the area can now enjoy improvements to the paving and landscaping outside the retail parade on Petersfield Rise. Finance Director of Heanens Wholesale Meats on Petersfield Rise, Hayden Harbud, said:
"In over 25 years of staring out of our window and looking at a rundown area of the estate, we finally have something very eye catching, welcoming, clean and modern to look at. It has brought life into an area, that the shops and community will thrive on."
Surge testing
A number of cases of the COVID-19 South African variant have been identified in south London. Everyone who lives or works in Wandsworth is urged to take a COVID-19 PCR test.
Collecting a PCR test, or ordering a home test kit, is the quickest and easiest way to get a test. You can collect and drop off a PCR test at one of 23 pharmacies.
For more information visit surge testing.
March 2021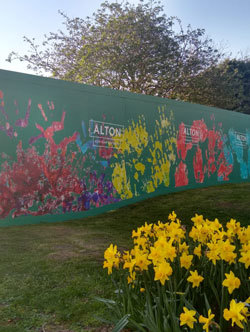 Fontley Way hoardings
Children from the neighbouring Alton Community Playschool had 'a hand' in creating the colourful design for a vibrant new hoarding installed around the Fontley Way development site.

The children, aged between two and four, spent a fun, messy morning painting handprints which were incorporated in the final design of the hoarding which spans 40 metres and will enhance the area prior to and during construction.

The site, which was previously the home of the One O'Clock Club, has been boarded up whilst work on the plans for the development of 14 new affordable homes progresses. Planning permission was obtained in September 2020 and the team is currently in the final stage of the design process for the building, which will lead to the start of construction.
Alton Regeneration Newsletter - Spring 2021
Find out about the brilliant initiative 'Roehampton Community Week', as well as updates on our development partner procurement process, and various community projects. We also introduce our new Community Engagement and Cultural Coordinator.
Read Alton Regeneration Newsletter
Introducing our Community Engagement and Cultural Coordinator
The Alton Regeneration Team is delighted to welcome Jo Baxter as our Community Engagement and Cultural Coordinator. Jo joined us on 1 March 2021 from the Central Area Housing Team where she was the Resident Participation Officer. Jo will be working closely with the Roehampton community to develop our Community Engagement and Cultural Strategies into an exciting programme of events and activities.

Jo says:
"The history of the Alton estate is well-known, and I want to shout about the area, about its wonderful greenery, and hold community events to which residents can invite their friends and families. I care deeply about environmental issues and I want to move conversations away from formal environments to meeting around a planter or on a bat walk in the evening!

"This - working in resident community engagement - is my dream job. I want the role to be resident-driven and for me to be the enabler for it to happen.

"I am excited to get to know the local community and to work closely with you in future. If you spot me (and my distinctive red hair!) around the estate, please stop me and say 'hi'!"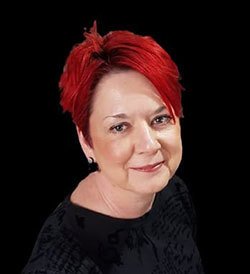 December 2020
Roehampton's 12 Days of Christmas


View our 2020 version of the 12 days of Christmas, featuring local people from the Alton estate.

With best wishes for health, happiness and love this Christmas.

Stay safe and enjoy,

From the Alton Regeneration Team.
October 2020
Alton Estate masterplan approved
The masterplan to regenerate the Alton Estate has been approved by Wandsworth Council's Planning Applications Committee on Thursday 22 October 2020.

Cllr Ravi Govindia, Leader of the Council, said:
"Wandsworth Council is absolutely committed to the regeneration of the Alton and this is a significant milestone for what is an important scheme. This regeneration has always been more than just about bricks and mortar. Whilst this scheme will transform the lives of those that move into new homes, the wider community will benefit from the new jobs and training opportunities as well as access to better community facilities and open spaces that will ensure the Alton remains a place that people are proud to call home."
September 2020
Alton Regeneration Update
In the wake of Redrow Homes' recent departure as its development partner, Wandsworth Council has officially confirmed its ongoing commitment to ensuring the delivery of the regeneration of the Alton Estate.
At the Council's Housing and Regeneration Overview and Scrutiny Committee meeting on Thursday 17 September it was agreed that the Council would take over responsibility for the planning application and would look for a new partner to take the work forward. Following consultation with a number of local stakeholders and residents, the Council also agreed a new approach to resident engagement and that a full Engagement Strategy should be prepared by November this year.
The planning application for the Alton Estate masterplan is expected to go to planning committee in October.
Fontley Way Planning Approval
Wandsworth Council's Planning Committee voted unanimously in favour of the development of fourteen new family homes on Fontley Way. As well as replacement homes to enable the Alton regeneration, the development will deliver parking, secure cycle storage, landscape improvements, under-5 play and outdoor amenity space. The development will also make a contribution to the play area at Ibsley Gardens to improve facilities for children over the age of 5.

Following the departure of Redrow Homes from the Alton Regeneration, council officers are looking at alternative options to develop the site. Residents will be notified as soon as a delivery plan is identified and when a construction programme is agreed.
August 2020
Joint statement from Wandsworth Borough Council and Redrow Homes
Read the joint statement from Wandsworth Borough Council and Redrow Homes regarding the Alton Estate Regeneration, issued on 6 August 2020.
June 2020
Alton Regeneration Newsletter - June 2020
Find out about the brilliant work undertaken by community groups to deliver the Roehampton Community Boxes, as well as information on the Alton Regeneration planning application, Citizen Advice Wandsworth's and My Roehampton project. Also, updates on the Bessborough Road development and the refurbishment of the Witley Point MUGA.
Read Alton Regeneration newsletter
May 2020
Bessborough Road works recommence
Work recommenced on the Bessborough Road development on 18 May following a period of inactivity during the COVID-19 lockdown. Safety measures have been introduced including social distancing, an enhanced cleaning regime and the introduction of a 'COVID-19 Supervisor' who will be responsible for policing the new measures. Adaptions have also been made to procedures such as signing in, new-worker inductions, site meetings and site signage.
To ensure the new practices are followed, Redrow have also introduced a whistle-blower safeguard through which workers can anonymously report violations of the new guidelines. Local residents and businesses have also been provided with contact details to discuss any concerns they may have.
News archive
January 2020
Bessborough Road: Ground Breaking Ceremony
The development partners broke ground at the Bessborough Road site at a ceremony on 29 January to mark construction, which is underway.
The development at Bessborough Road will deliver ten new council homes for existing residents, comprising of five flats and five maisonettes, each with access to either a private garden or private balcony. The new homes will be fully adaptable to meet the mobility needs of residents, with one maisonette being designed specifically for wheelchair use. Residents will also benefit from bike storage, a children's play area, and landscape improvements to the green space outside of the homes.
Proposed changes to the mix of housing for the Alton Estate Regeneration
The initial planning application for the Alton Estate regeneration was submitted in June 2019 by Redrow Homes. Following a statutory planning consultation, both the Council and Redrow Homes carefully reflected on comments made by the public and the GLA in respect of the location of council housing. A comprehensive proposal has been prepared by the Council's Housing Regeneration Team which it believes addresses these concerns and will also accelerate the delivery of council housing in the first phase.
Additional key amendments include:
Increased provision of shared ownership units
Block A will now provide more council homes for rent
Block O will now be a mixture of new homes for council tenants and resident leaseholders rather than a private block.
Block Q2 will now be completely shared ownership
Updates on these proposals were shared with residents within the intervention area of the Alton estate through a series of engagement sessions carried out by the regeneration team in January.
View the new phasing plan presentation boards.
November 2019
Bessborough Road Development: Considerate Constructors Report
Despite the fact that works are still at a very early stage, Bessborough Road has been commended by the Considerate Constructors monitors for having very high levels of code compliance.
The report highlights that there has been strong engagement with the local community, highly compliant environmental practices and a robust health and safety inspection regime. The report singled out the hoarding surrounding the site, which features artwork from pupils at Heathmere School, as very impressive, and commented on Redrow's strong goodwill and charitable support in and around the local community.
Read the full report.
September 2019
Building works begin on Bessborough Road
Located on Bessborough Road, the development will provide ten new Council homes for tenants and leaseholders already living on the Alton Estate. The development contains five maisonettes and five flats, each with access to either a private garden or private balcony. The development will also be fully adaptable to meet the mobility needs of residents, and one maisonette has been designed specifically for wheelchair use. The development will offer bike storage, a play area, and landscape improvements to the front of the property and to Petersfield Rise.
Wandsworth Council's development partner, Redrow Homes, went on site at the end of July 2019 to clear the area and to erect hoarding. The hoarding features paintings by pupils from Heathmere Primary School on the theme of 'My favourite thing about Roehampton'. Pupils' paintings depict London buses, deer from Richmond Park, and the local dinosaurs.
June 2019
Planning application submitted
A planning application has been submitted for the Alton area which includes 1,103 new and replacement homes, new community facilities and improvements to the local infrastructure. Phase one of the development will deliver new homes for existing residents and a multi-purpose community building which will contain a bigger Roehampton library, a new youth centre to replace the Base, a doctors' surgery, a community hall and a café.
View the planning newsletter.
View full details of the application, environmental statement, plans and other documents submitted with the application.
June 2018
Regeneration Public Exhibition
More than 250 people attended the public exhibition sessions in Roehampton Parish Hall on Wednesday 6 and Saturday 9 June 2018. The exhibition provided an opportunity to share the revised plans that residents and consultees have helped to create, and to let residents know how the regeneration will affect them.
January 2018
Planning application for Bessborough Road submitted
A planning application has been submitted for Bessborough Road which sees the removal of Sherwood Lodge and the construction of tennew affordable homes, with a mixture of shared equity and council rent homes to meet the needs of the residents that will move in.
View full details of the application, environmental statement, plans and other documents submitted with the application.
March 2017
Redrow PLC selected as preferred bidder
Redrow plc, a FTSE 250 company and one of the UK's leading home builders, is the preferred bidder for the regeneration of Wandsworth Council's Alton estate, following an EU-compliant procurement process.
A competition was launched in March 2016 to find a development partner to replace post-war council housing in parts of the 17 acre Alton estate, in Roehampton, which will see the delivery of a new library and retail area twice the size of existing provision; a new health centre and children's centre; a new park and around 1,000 private and affordable new homes. All planned to be created over the next ten years.