Helping people get on in life
We want everyone in Wandsworth to have access to the same opportunities in life.
We are proud that our borough is one of the best in the country when it comes to ensuring that there is a level playing field, regardless of background, faith, age or where you live. The Social Mobility Commission ranked us as the 4th best place for providing our residents with the best conditions to get on in life.
Not content with that we are overseeing billions of pounds of investment in our borough to create new job, training and skills opportunities that everyone can benefit from. We are also helping businesses to grow in our town centres and across the borough.
What we are doing
Bringing improvements to Wandsworth
We are attracting £15 billion of new investment to our borough, which will see 20,000 new homes and a new district for London at Nine Elms. We are also overseeing major improvements at Wandsworth town centre, Roehampton town centre, including the Alton estate, along with Winstanley and York Road estates in Battersea. Find out more about what is happening across Wandsworth and take a tour of Nine Elms.
Helping people secure job opportunities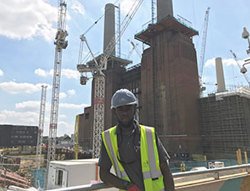 We help people who are looking to get back into employment or change their career, often gaining new skills or qualifications in the process. We do this by matching your ambitions with employment opportunities. Since 2013 have helped 750 Wandsworth residents into work. Find out how you benefit from our Workmatch programme.
A business-friendly borough
Wandsworth has been recognised as the best small business-friendly borough in London – we are proud to be a place of creators, makers and innovators stretching from Putney all the way through to London's newest neighbourhood at Nine Elms.
We are doing everything we can to make Wandsworth a great place to invest, which ranges from our support for town centres through to holding Wandsworth Enterprise Week, which is annual programme of help and advice. Our 'Your Business, Your Growth' business support programme supported more than 500 existing businesses and helped 67 new businesses to start. The programme included networking opportunities, one-to-one advice sessions as well as specialist support for businesses that are in the food, hospitality and digital sector.
What we are doing next
Supporting schools to provide more pre-school nursery places
Establishing a mentoring scheme to help students who are falling behind at school
Establishing a coaching scheme for children from disadvantaged backgrounds
Helping young people showcase their talents in arts schemes across the community
Working with businesses to encourage a Business Improvement District at Clapham Common
Using the decision by Apple to relocate to Battersea Power Station as a platform to encourage other digital and technology companies to the area
Launching a shared learning network to link young people starting their careers with experienced local people
Working intensely with around 400 people who are furthest away from the job market to secure training, skills and job opportunities