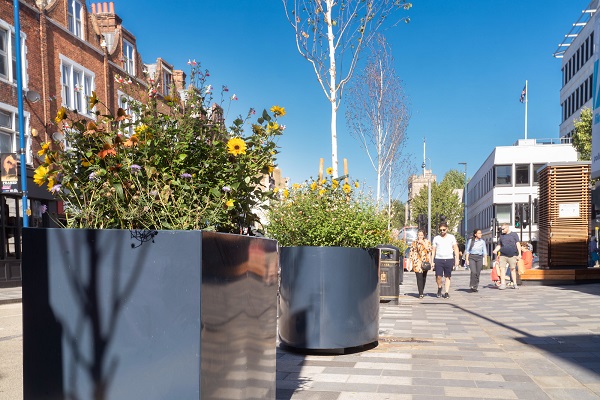 The ongoing project aims to improve air quality and make the town centre a more pleasant destination for visitors and shoppers. The town's library is also due to get a revamp later this year as part of a separate project.  
Work already carried out includes 
Pavement widening and repaving 
Installing 'Copenhagen Crossings' at side streets to improve safety 
Constructing a loading bay outside Tesco to prevent delivery vehicles blocking the road 
Introducing a 20mph speed limit 
Installing 'parklets', new trees and planters to bring more greenery to the High Street. 
Upgrading and modernising street lights 
Uplighting St Mary's Church, the Putney Exchange and Putney Bridge 
Providing more cycle parking, including two-tier stands on Disraeli Road and 12 cycle racks around the Lacy Road junction 
Installing cycle contraflows in Disraeli Road and Felsham Road 
Installing a 'city tree' that filters air and removes pollutants.  
Decluttering by removing unnecessary signs and railings and upgrading street furniture 
Working with TfL to improve the pedestrian island at the junction with Putney Bridge Road 
Installing intelligent cameras to monitor cycle, pedestrian, traffic and air pollution levels. 
Funding for all these works has come from council budgets, plus a contribution from the Putney BID and a grant from the Government's Future High Streets Fund. The council applied for this grant to help revitalise the town centre and help it overcome the challenges of vacant retail space, traffic congestion and air quality. 
Work in the pipeline includes improving the area in Disraeli Road around Putney Library. How this will look is currently being explored by engineers and it will be timed to coincide with the completion of work later this year to transform Putney Library into a 'beacon library'. This will turn it into a community hub, including a new reception, café area, refurbished toilets, a refurbished children's library, flexible study spaces and workspaces for local small businesses and entrepreneurs.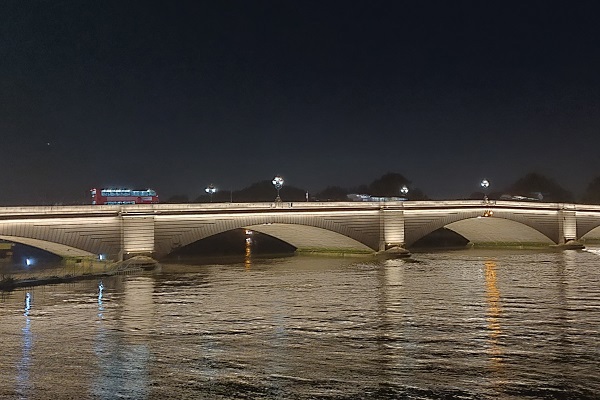 Putney Bridge has been uplit
Talks are ongoing with TfL about resurfacing the High Street carriageway and about improving the junction of Putney High Street and the Lower Richmond Road to make it safer for pedestrians and cyclists. A large amount of modelling work has already been carried out to see what changes will be most effective.  Detailed designs are expected to be agreed in the summer, with work starting later this year.  
The council is also keen to build on the Thames Tideway work being carried out on the Putney Embankment to connect the High Street to the River Thames more directly and enhance existing waterfront areas. The Tideway project will see a new public space built for the people of Putney to enjoy, and council improvements could see public access improved to the Watermans Green area.  
The work is in addition to other measures carried out in Putney to improve air quality, including lobbying TfL for cleaner buses and imposing restrictions on delivery vehicles. There has been a significant drop in air pollution since 2016. Read more.  
Transport spokesman Cllr John Locker said: "The Putney Improvement Project is a major package of works carried out over several years by the council with input from local groups, organisations businesses and residents.
"Our engineers are busy modelling potential road improvements and drawing up plans and we will see further changes this year that will create better linkages between the High Street and the river and will encourage people to walk and cycle.
"Together with the many measures we have taken to reduce air pollution, we are really starting to see its impact on the way the High Street looks and feels. As our town centres recover from the pandemic, it's important that we do what we can to support local businesses.  Our overall aim is to keep Putney a great place to live and a vibrant and attractive town centre for visitors to spend their money in the many shops, bars, pubs and restaurants."