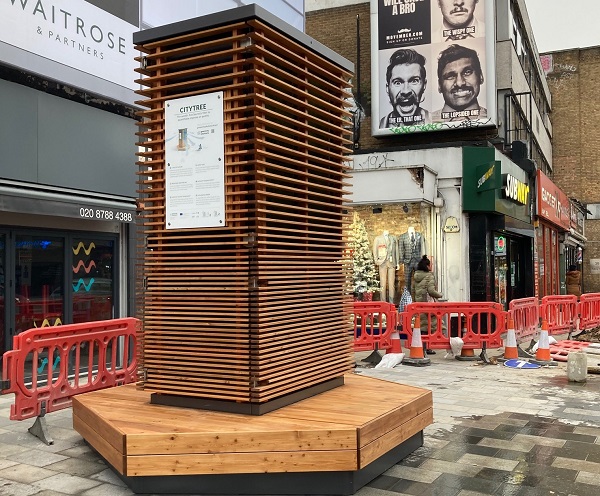 As part of its ongoing campaign to improve local air quality, the council installed a 'City Tree' in the high street at the turn of the year.
The City Tree filters particulate matter and fine dust out of the surrounding air, while simultaneously purifying and cooling the air. Every hour it filters the volume of air breathed by up to 7,000 people.
And in its first ten weeks of operation, the pioneering device purified 1.3 million cubic metres of air. This volume of air is equivalent to:
• 519 Olympic sized swimming pools
• 324 hot air balloons
• 5,400 smoked cigarettes
The system works by using fans to draw in polluted, warm air, which flows through eight large panels of living moss. Moss has lots of fine hairs, resulting in a large surface area which is able to trap fine particles.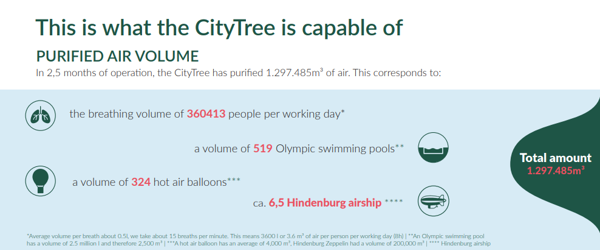 The process not only removes these particles but also purifies and cools the air which is then recirculated back into the atmosphere at ground level giving people cleaner and purer air to breathe minus hazardous particulates.
It is the result of five years of research and development by German company Green City Solutions and is the latest in a series of environmental improvements in Putney High Street.
Wandsworth's cabinet member for strategic planning and transport Cllr John Locker said: "This first set of results is hugely encouraging. In ten weeks it has filtered and cleaned enough air to fill more than 320 hot air balloons - and will go on working 24 hours a day, seven days a week cleaning and purifying the air in Putney High Street."
And the borough's cabinet member for finance, corporate resources and climate sustainability Cllr Rory O'Broin added: "This cutting-edge technology is delivering real benefits to people living, working and visiting Putney High Street. We know that more work needs to be done to improve air quality in the high street and are committed to meeting this challenge head on."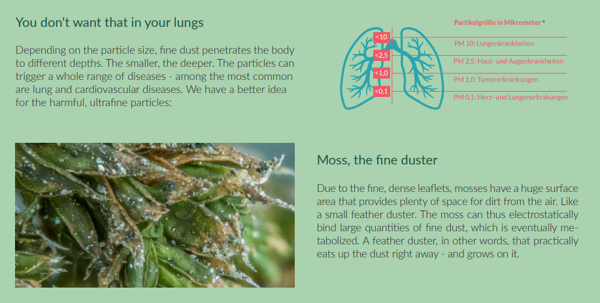 The council has already introduced a concrete series of measures to tackle air quality issues. These include:
• Helping schools develop School Travel Plans which reduce the number of cars used on the school run through initiatives like 'walking buses' and car pools.
• Working with schools and parents to deliver the third highest number of School Streets in inner London.
• Championing car clubs which dramatically reduce total vehicle use and take older, more polluting cars off the road. Wandsworth now has the highest car club membership in London with more than 30,000 members.
• Providing a comprehensive network of electric vehicle charging points. This is currently the second highest number of any single local authority anywhere in the UK.
• Free bike safety lessons for children and adults to give more residents the confidence and skills they need to start cycling.
• Introduced a borough-wide 20mph speed limit.
• Secured funding for e-cargo bikes for our services and also local businesses.
• Agreed to replace our existing fleet of 32 commercial vehicles with replacements that produce fewer emissions.
• Introduced restrictions on delivery vehicles in busy high streets.
• A free airTEXT messaging service warns residents when high pollution levels are forecast.
• Lobbying for higher capacity rail, bus, riverbus and tube services so more residents can switch from cars to public transport. This autumn will see the first tube services operating on the Northern Line extension to Nine Elms and Battersea Power Station.
• Supporting Clean Air Day projects and encouraging local people to make clean air pledges.
For more information about the borough's ongoing work to improve local air quality, visit the council's website.
The council has pledged to become carbon neutral by 2030 and operate as a zero carbon council by 2050 as it plays its role in tackling climate change. For more information about the council's climate change action plan visit www.wandsworth.gov.uk/climatechange.