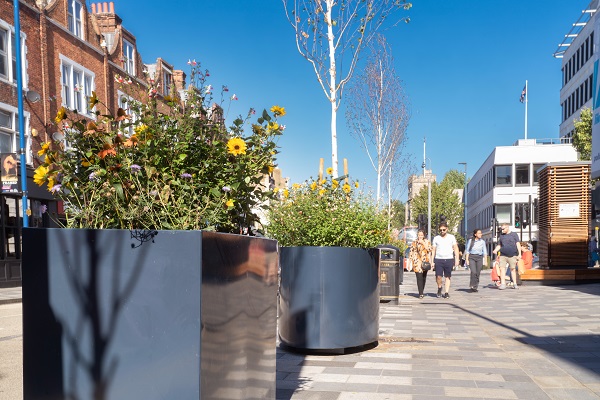 There has been a consistent decline in pollution over the past few years as the council has focused on monitoring and improving pollution levels in air quality hotspots.
Provisional monitoring results for 2021 show that the annual mean concentration of nitrogen dioxide (NO2) In Putney High Street was 55 micrograms per cubic metre (µg/m3). This compares with 69 in 2019 and 58 in 2020. In 2016 the annual mean level was 124, showing steady progress towards the National Air Quality Objective of 40 µg/m3.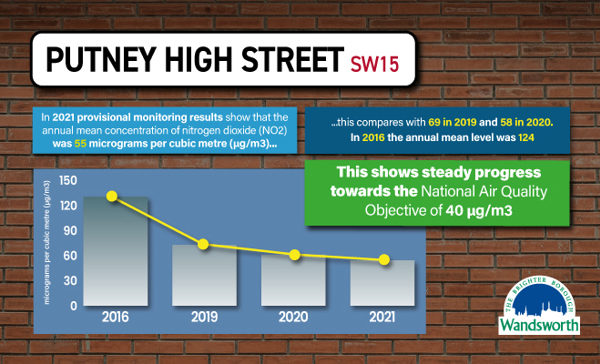 Air pollution concentrations in Putney High Street are now in line with many other town centres across London, although comparisons are difficult because not all boroughs monitor their most polluted roads.
The council's other Putney air quality monitoring station in Felsham Road also recorded a fall in NO2. Borough-wide, concentrations measured by all the automatic monitoring stations in Tooting, Clapham Junction and Putney have consistently decreased since 2016
In Putney the reduction has been put down to lobbying TfL for cleaner buses and better public transport links, imposing restrictions on delivery vehicles, improving access to car clubs and electric vehicle recharging points, reducing carbon emissions from council buildings and close regulation of construction sites. In addition, several school streets have been introduced to prevent vehicles from driving past school entrances during drop-off and pick-up time. A city tree has been installed to filter particulate matter and fine dust out of the surrounding air, while simultaneously purifying and cooling the air
Putney is also a 'Clean Air Village', with measures to help local businesses tackle pollution including the use of cargo bikes for deliveries.
Transport spokesman Cllr John Locker said: "We have been working hard for years to reduce traffic-related air pollution in Putney – persuading TfL to switch to cleaner buses was a huge win and we will continue to work to minimise pollution caused by deliveries and around priority areas such as schools."
The council has pledged to reduce pollution and its impact as part of its actions to tackle climate change under the Wandsworth Environment and Sustainability Strategy.
Wandsworth is working to achieve the recommended objectives for both nitrogen dioxide and particulate matter within the lifespan of the 2021-2025 action plan. It is currently finalising the new Air Quality Action Plan for 2022-2026.
Cabinet member for climate sustainability Cllr Kim Caddy said: "These figures show air quality is steadily improving in Putney and statistics shared with us by the GLA show that it is no more polluted than many similar roads in London. We have done a huge amount of work to achieve this, although we accept there is still much more to do.
"We have a policy of putting monitors in pollution hot spots and the new Air quality Action Plan includes a plan to further improve monitoring. This enables us to get robust data to inform clear and comprehensive actions to tackle air pollution We are determined to continue to do all we can to continue to clean up the air in Putney and throughout the borough."
Find out more about how the council manages air quality in Wandsworth, and read annual reports from 2014 to 2020 at wandsworth.gov.uk/ managing-air-quality