The Mayor of Wandsworth for 2019/20 is Councillor Jane Cooper who was previously the Deputy Mayor for 2018/19.
Councillor Jane Cooper was born and brought up in North Yorkshire and has lived in Wandsworth for 40 years. Jane is a retired Civil Servant and Magistrate and has also served as a school governor for over 30 years.  She has a keen interest in theatre and is a joint patron of Southfields theatre group and a patron of group 64. 
Jane is the council representative for the London Advisory Welfare Committee and takes a keen interest in animal welfare. Jane has served on Housing, Planning and Transportation Committees and served as chairman on Housing regeneration OSC and Planning and Transportation OSC.
Councillor Sue McKinney is the Deputy Mayor.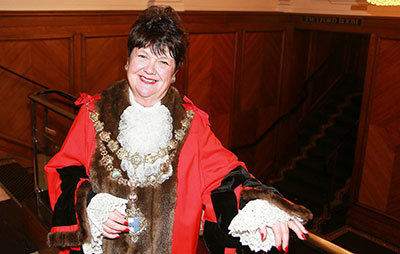 The Mayor of Wandsworth, Cllr Jane Cooper
Charities
Find out about the charities being supported by the mayor this year.
Roll of Honour
Every year the Mayor recognises local people who have volunteered their time to help others via the Roll of Honour award and a special Wandsworth pin by the mayor. 
Contact the Mayor
The Mayor of Wandsworth takes the civic lead in all matters of concern in the life of the borough and aims to meet and greet as many of its citizens as possible during his or her term in office. 
Email: mayor@wandsworth.gov.uk
Follow the Mayor on Twitter at @WandsworthMayor
Invite the Mayor to an event
The Mayor is happy to be invited to:
Chair Annual General Meetings
Visit schools and voluntary groups
Open fetes/garden parties
Attend sports and charitable events
Any requests for attendance at engagements or general enquiries relating to the Mayoralty should be directed to the Mayor's Secretary, Mrs Pat Battista.
Mayor's Office
Town Hall
Wandsworth High Street
SW18 2PU
If for any reason the Mayor is unable to accept an engagement the Deputy Mayor may attend on behalf of the Mayor.
Previous events
View pictures of previous events.
Previous Mayor
Find out about the previous Mayor and Deputy Mayor