Patmore Centre, Thessaly Road, SW8
We have identified non-residential areas within the Patmore Estate for potential housing development. These areas are the Patmore Centre, which will be demolished, and some of the surrounding land as shown on the map.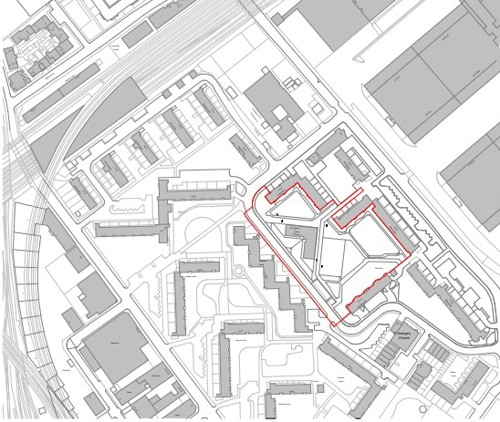 The proposal is to provide a range of affordable housing prioritised for Wandsworth residents and those working in the Borough. The development is part of our Building Homes for Wandsworth People development programme which will see 1,000 new council homes developed over the next 5 to 10 years. 
What will happen to the sports court and play facilities?  
Our intention is to retain existing sports court and play areas; however they may be relocated to another spaces within the area shown above.
Will there be any new community facilities provided as part of the development?
This is a matter that we would welcome your views on. Clearly any new council resident space requires management and upkeep which must be matters that the Council and those who might put forward such ideas must consider.
If you want to share your views on this or any other issue, please contact us at developmentteam@wandsworth.gov.uk
Where can I find the proposals?
The Council's appointed lead consultants Arups and architects Pollard Thomas Edwards (PTE) are working on several potential options for development with a view to sharing these initial proposals with residents during the early part of 2019. The aim is to maximise the market and affordable housing opportunities available to those living and working in the Borough. The overall aim of the Council's 1,000 home development programme is to deliver 60% of these homes as affordable housing to rent and part buy across the borough. The programme relies in part from cross subsidy of market homes to support this programme and this ambition.
When proposals have been worked up, we will provide a link on this page where residents can view them in addition to holding consultation events as set out below.
What is the current consultation programme?
We are committed to consulting and responding to queries raised by residents about any outline plans or opportunities we identify to build more Council homes
December 2018 - first consultation event: understanding issues and opportunities including for wider environmental improvements
January 2019 - second consultation event with residents: initial design options
Spring 2019 - third consultation event with residents: preferred option
Summer 2019 - submit planning application
Summer 2019 - planning consultation
Autumn 2019 - planning application decision
Should planning consent for development be obtained, once the Council has appointed a contractor, more engagement events will follow including a 'meet the contractor' event held before the start of any works on site. This will seek to address matters such as the construction management plan, key contractor contacts, logistics and timings of key site activities.
I missed the December consultation. How can I make my views known on the development?
We want the proposals to take into account as many of the estate residents' views as possible. If you were unable to make it to the event on 4 December, you can view the presentation boards from the day.
If you have any further comments or suggestions for us to take on board, please contact us at developmentteam@wandsworth.gov.uk.
How is the Council going to deal with the car parking deficiency on the estate and the additional parking pressure that will be created through development of new homes?
We are very mindful of the parking pressures in the area. Whilst the existing parking areas on the estate may be reconfigured through development, there will be no net loss of existing parking and all existing spaces will be re-provided.
In addition, we are also considering the potential for phasing any development proposals across these sites in order to ensure that parking remains available to residents during the construction of any new homes.
In respect to parking requirements for the new development, this will be a matter that will be considered by the Planning Service when a formal planning application is submitted. The Planning Service would either require a new development to have a certain level of parking available or may identify that a particular development should be delivered on the basis of that development being 'car free', save the commitment above to replace existing car parking provision and provide disabled bays. We will undertake Parking surveys which would be publicly available as part of any future planning application. 

How will the proposals deal with the increase in housing density, overlooking, loss of light and amenity?
The scheme will be required to meet a number of planning requirements for any proposed development, including consideration of density, overlooking, loss of light and amenity and how these matters have been considered and addressed. Prior to any planning application being submitted, we will undertake impact assessments and surveys, such as daylight/sunlight studies which will be submitted and available for public access. These will be duly considered as part of the planning application process with neighbouring residents having the opportunity to make representations on plans and reports.
What will the impact be on future maintenance charges on the estate?
The new properties would be owned and managed by us. This will ensure continuity of management of these properties and the surrounding estate and amenity spaces.
Given the project is at an early stage, it is not possible to state what the impact would be on service charges, however it is our expectation that existing estate residents would not see any increase to their service charges from the development proposals"
Will the Party Wall Act apply to my property?
The Party Wall Act offers protection to adjoining property owners and may apply to some properties depending on the proximity of the proposed works. If it applies to your property, you will be notified accordingly at the relevant time and we will follow due processes in accordance with the Act. You will have an opportunity to appoint your own Party Wall surveyor to act on your behalf as you wish and we will cover the reasonable cost for this.
I am interested in buying/renting an apartment in the new development. How can I do this?
For any shared ownership or low cost for sale properties developed these will be prioritised to households living and/or working in the borough, with nominations being processed through our Home Ownership Team. If you would like to find out more about shared ownership or apply to be on the home ownership waiting list please visit our home ownership pages, or contact the team:
Telephone: 020 8871 6161
Email: housesales@wandsworth.gov.uk
Post:
Home Ownership Team
Housing Customer Centre
90 Putney Bridge Road
London
SW18 1HR
In respect of the new rented affordable homes being developed, these properties will be allocated in line with our Housing Allocations Scheme. A local lettings plan will be put in place which will take into account our wider policies on housing as well as local demands and pressures including from those existing Council tenants who may wish to downsize. Any local lettings plan will not become operational until development has moved considerably forward in its construction.
If you would like to make an application to go onto the housing register for social housing, you will need to apply online. Applications for housing are assessed under our Housing Allocation Scheme. We can give no guarantee as to the allocation of any of the proposed new homes as this would be dependent on the terms of the Local Lettings Plan, the applicant's circumstances and housing priority.
If you have any further queries regarding the application process or available housing options, contact Housingapplications@wandsworth.gov.uk.