Walking and Cycling Strategy one year on 
Published: Tuesday, November 7, 2023
Work is well underway to deliver actions set out in the Wandsworth Walking and Cycling Strategy.  

Facilities are being improved to encourage people to walk and cycle as part of council's climate change and air pollution commitments.

Dedicated cycle parking plan also agreed.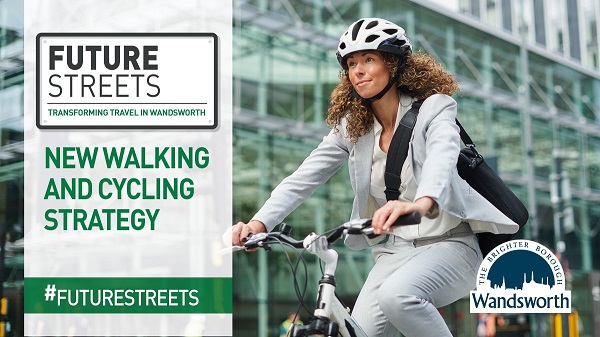 The Wandsworth Walking and Cycling Strategy has been in place for a year and work to encourage walking and cycling has already begun. 
A new approach to make sure cycle parking solutions are joined up across the borough, including more parking at stations, has also been agreed as part of the one-year review.  
The ambitious strategy is an integral part of the council's Future Streets initiative to transform Wandsworth so that children aged 10-11 in the last year of primary school can walk or cycle to school more safely. 
Some of the actions set out in it are already being rapidly achieved, including: 
Work on other parts of the strategy has been accelerated, including: 
The development of a cycle route network. Work is progressing and residents will be able to take part in a consultation in the new year.

Improvements to highways, including Old York Road and Burntwood Lane.

Identifying a proposed network of 'quietway' cycle routes away from major roads, which will be consulted on early next year.  
Cabinet Member for Transport Jenny Yates said: "Encouraging walking and cycling is a key part of Future Streets. We need to make it easy for people to make short journeys by foot or bike rather than by car. That means making it safe, giving them somewhere to park their bike and giving residents and businesses the ability to hire bikes.  
"We have spent the past year speeding up existing programmes, like school streets and bike hangars, and developing new ones, as well as ongoing work to improve our highways. And we have been talking to local people to make sure they have input into our plans. We will continue to work tirelessly to achieve our target for 78 per cent of trips to be made by foot, bike or public transport by 2030."