Work to get underway next month providing a new-look Wandsworth Common playground
Published: Friday, January 14, 2022
Parents and children can look forward to a new look Windmill playground on Wandsworth Common with a wide-ranging package of improvements set to get underway next month.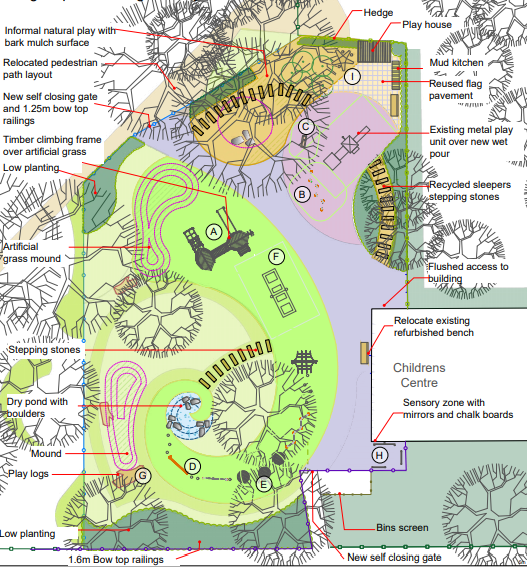 The upgrade will deliver new and improved play equipment while the play area itself will be enlarged by utilising some adjacent space.
As well as allowing for the playground to have a better flow, the extension will provide extra space for informal games and leisure without limiting the area given over to play equipment. It will also provide an opportunity to encourage wildlife through improved biodiversity planting.
The final design was backed by local families in a public consultation held last year which resulted in 70 per cent of people choosing the proposed layout from three different options.
Environment spokesman Cllr Steffi Sutters said: "We are delighted that work will soon begin to provide local families with young children a much better play area to enjoy.
As well as new play equipment there are many more interactive features with an emphasis on nature and biodiversity which is absolutely fitting for a play area on the common.
"I think children in the area will really enjoy visiting their new-look play space."
Work is due to commence towards the end of February and will take around eight weeks to complete.
The Lady Allen playground is run by charity KIDS and supports children with special needs. It receives a council grant worth around £120,000 every year to fund its day-to-day operations and staffing costs.
In a further round of investment just completed, the playground's clubhouse has been revamped and modernised, repairs have been carried out to some of the play equipment and a new perimeter security fence has been installed to prevent break-ins and unauthorised use.
KIDS is a national charity, founded in 1970, that provides a wide range of services to disabled children, young people and their families in England.
For more information about the playground and its opening times visit https://www.kids.org.uk/lady-allen-adventure-playground1.