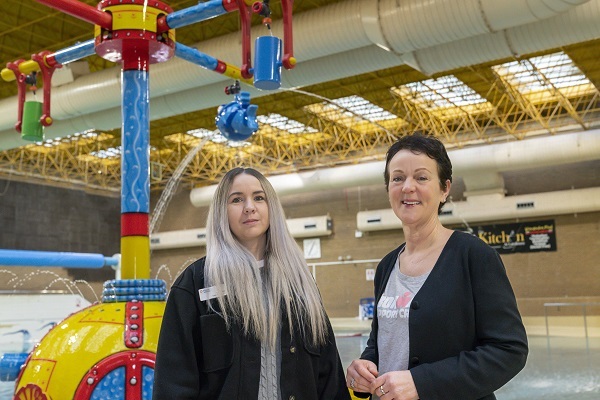 Children and toddlers will have even more of a reason to ask mums and dads to bring them to the pool at Battersea's Latchmere Leisure Centre with the unveiling of its exciting new water play features.  
The leisure centre has just installed a new highly interactive water play area aimed at the under 8s of all swimming abilities. 
The brightly coloured play area comes complete with water jets, water channels, handwheels, fill'n'spill buckets, mirrors and a fish shaped shower arm together with a new toddler's water slide and is designed to inspire water confidence in younger children using its combination of high and low level play features. It aims to capture the imaginations of young minds while providing learning through play scenarios. 
Earlier this month the council announced that swimming pools and gyms in council leisure centres will be free to use from this summer for families on lower incomes. Fees for hiring grass sports pitches have also been cut.  
The new play feature was formally opened by the council's Cabinet Member for Environment, Judi Gasser, yesterday (Monday). 
She said: " I used to love bringing my children here. This is a great addition to the leisure centre and should prove a big hit with younger visitors to the pool. 
"Not only will it provide them with lots of fun activities but it should also help younger children feel more confident in the water, which I'm sure parents will welcome. 
"I'd like to thank our leisure centres contractor Places Leisure for installing this exciting new play feature." 
Places Leisure's general manager Amy Lake added: "We're delighted with the installation of the new interactive water feature, It's a fantastic addition to the centre and we hope families enjoy swimming at Latchmere Leisure Centre for many years to come."
Latchmere Leisure Centre is open every weekday between 6.30am and 9.30pm and at weekends from 7.45am to 4.30pm. For more information visit https://www.placesleisure.org/centres/latchmere-leisure-centre/ or email enquiries@latchmereleisurecentre.co.uk.