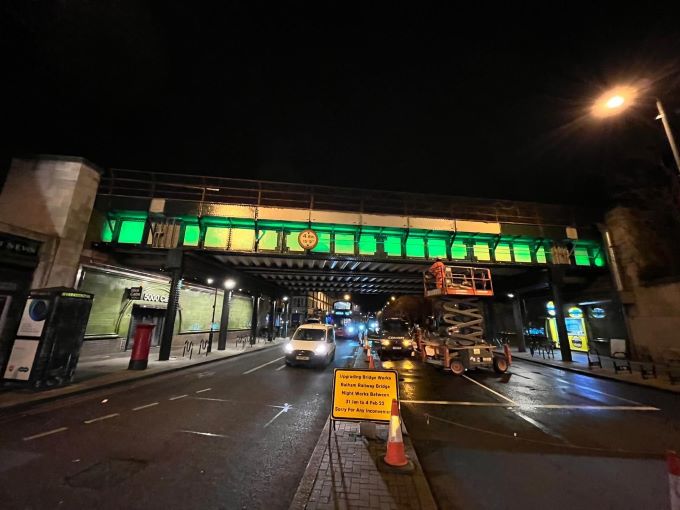 A joint refurbishment scheme between Wandsworth Council and Network Rail has delivered a revamped railway bridge – complete with an illuminated cascade - which uses a range of colours to light up the bridge.
As well as the new feature lighting, the bridge walls and attractive tiled artwork have been cleaned and the bridge panels repainted and refurbished - so that the bridge looks almost brand new.
The refurbishment scheme mirrors a similar project carried out at Wandsworth Town Station which was completed just before Christmas and saw a range of improvements carried out at its railway bridge as part of another joint council and Network rail improvement scheme.
The council has invested just over £75,000 on upgrading the Balham bridge – part of the borough's £5m public realm improvement fund which is delivering a series of transport and travel upgrades across Wandsworth.
Before the end of the current financial year £5m will have been invested in renewing pavements and road surfaces, upgrading footpaths in parks and commons, improving street lighting, cleaning up bridges, investing in high streets and shopping parades and removing unnecessary street clutter.
Transport spokesman Cllr John Locker said: "This work at Balham has provided a welcome boost to the town centre and turned its formerly drab railway bridge into a prominent and colourful local landmark. It is cleaner, smarter and more welcoming than it has been for years.
"This is just the latest example of the council's ongoing £5m programme of local travel improvements as we help the borough recover from the effects of the pandemic."
The borough's £5m public realm improvement fund includes investment in the following key areas – all designed to deliver a series of upgrades to Wandsworth's streets, green spaces and travel infrastructure.
• More pavement and road resurfacing - £2.05m
• Improvements to local shopping parades - £580,000
• River promenade upgrades - £440,000
• Rail bridge underpass refurbishments and lighting projects - £540,000
• Road safety – additional pedestrian crossings and compliance measures - £890,000
• Green spaces footpaths and railings - £500,000