New £5m fund for public realm improvements will help build an even Brighter Borough
Published: Thursday, July 8, 2021
The council is establishing a new £5m public realm improvement fund to create an even Brighter Borough for residents and businesses as a key strand of its plans for Wandsworth's recovery from the impact of the Covid pandemic.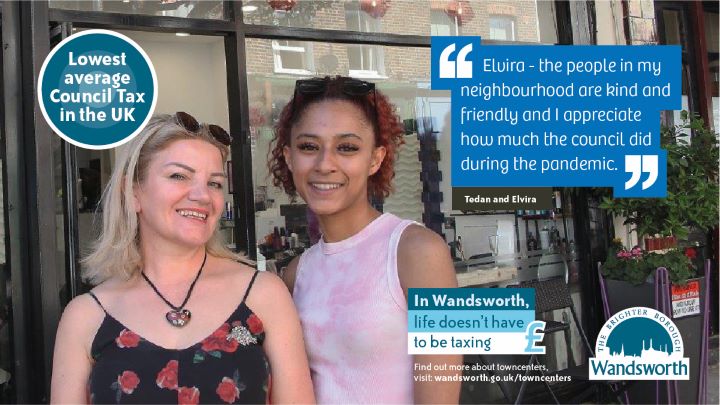 The fund will enable the council to fast track investments in local infrastructure and in building a better borough.
It will support targeted interventions in key areas, ranging from improving the look and feel of the borough's town centres to the smartening up of street scenes, to parks, river paths and road crossing improvements, plus the planting of more trees.
Council leader Ravi Govindia said: "As we move out of lockdown and emerge into a post pandemic world it is vitally important for the council to invest in its public realm where necessary to support residents and businesses to recover as quickly and as fully as possible.
"In March 2020 Covid changed life for our residents and significantly affected businesses in the borough.
"In response the council innovated and developed new services to support residents and businesses to access the help they needed as well as ensuring key council priorities continued, such as tackling climate change and providing new and better housing for our residents.
"This support made a real difference to residents and the local economy. The work delivered in 2020/21 puts Wandsworth in a strong position to recover but, to ensure our residents and businesses thrive, further efforts are needed.
"The council will continue its tradition of innovation, leading the way and delivering challenging actions, supported by this type of investment.
"The coming months will see a recovery from one of the biggest economic and public health shocks the borough and indeed the world has faced. It is also a year full of potential for Wandsworth, with the opening of the Northern Line Extension this autumn, along with the arrival of Apple's UK headquarters into the revitalised Battersea Power Station development.
"Our aim is to ensure that Wandsworth's residents and businesses can capitalise on this potential and go from strength to strength. That is why this newly created £5m fund is so important."
The creation of the new public realm improvement fund was approved last night (Wednesday) by councillors on the Finance, Resources and Climate Sustainability Overview and Scrutiny Committee.