Sign up now to join Wandsworth's free to hire cargo bikes scheme
Published: Wednesday, August 17, 2022
Residents and businesses are now able to hire electric powered cargo-bikes through a collaboration between the council, eco-friendly bike operator Peddle My Wheels and two local businesses.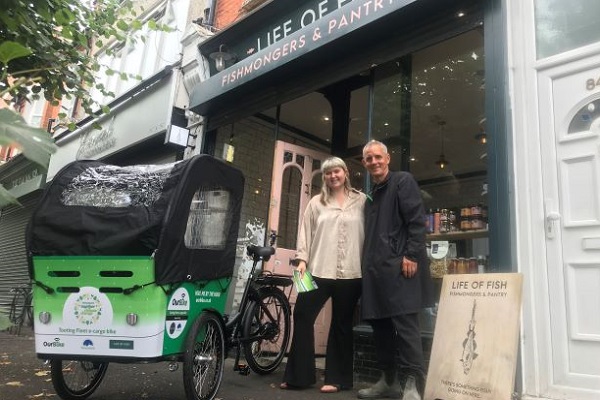 The new scheme allows residents and businesses to hire cargo bikes for up to two hours each day free of charge, with longer journeys charged at £3 an hour. From this week the cargo bikes will be parked outside local businesses who are acting as the hosts for the bikes and who will charge the bikes' batteries.
The host businesses are:
• The London Cycle Workshop on St John's Hill, Battersea.
• Life Of Fish on Moyser Road, Tooting.
A third community cargo bike will also be launching in a weeks' time on the Doddington Estate in partnership with the Doddington and Rollo Community Association.
The bikes can be used to transport up to two children, parcels, shopping and other bulky items and are a simple, healthy and eco-friendly alternative to using cars or vans.

To register to use the cargo bikes residents and businesses can register now via the OurBike website. Registered users will be contacted by OurBike to book a short face-to-face introductory session at the bike's location and after the session will be set to book and unlock the bike via an app.
The council has been working with Peddle My Wheels to subsidise a 'Try Before You Buy' scheme which gives residents and businesses discounts on bike purchases. This cargo bike scheme represents a next step in improving the accessibility of bikes to residents and businesses in the borough.

Transport spokesperson Cllr Clare Fraser said: "This is an exciting scheme that will make using a cargo bike a much more attractive and viable option for people and businesses who need to transport goods, shopping or equipment around the borough and want to switch from using their cars and vans to a much more environmentally friendly option."

And Cllr Judi Gasser, who is the council's cabinet member responsible for tackling climate change and improving air quality, added: "This is a great initiative that will help improve air quality, reduce congestion on our roads and give local people and businesses the choice of a healthy transport option. It will help the council meet its commitment to tackle climate change in Wandsworth and become a carbon neutral organisation by 2030."

E-cargo bikes are already in use in the borough as part of a scheme funded by the Department of Transport and managed in conjunction with the Cross River Partnership. This has led to three local charities, some small businesses and two council services using them on a regular basis instead of vehicles.

To sign up for the scheme and register your details please visit https://ourbike.co.uk/.

For more information about local cargo-bike opportunities visit the council's website.