Parking controls search
Enter street name to view:
Pay and display costs
Days and hours of controlled parking
Controlled parking zone maps
Maximum stays in the selected street(s)
Streets without controls are not returned by the search.
Identifying Controlled Parking Zones (CPZ)
There are signs at the entry roads to all CPZs giving the hours during which the controls and yellow line restrictions are operational.
Sometimes, yellow line restrictions within a CPZ operate for longer than the controlled hours and, if this is the case, there will be signs on the kerb or pavement giving the hours of restriction.
The only exception to this is double yellow line restrictions, which always operate "at any time" (24 hours a day, seven days a week) and do not require a sign plate to indicate when they are in force.
There are two main types of parking control: all-day restrictions and one-hour restrictions, and a Controlled Parking Zone can be made up of a mixture of the two.
Our Housing and Community Services Department is responsible for their design, operation and regular reviews.
One hour zone
This operates for one hour per day - usually Monday to Friday. It is designed specifically to deter commuters. It will allow others to park without restriction outside the specified hour.

Residents who own or keep a vehicle may purchase one resident parking permit as well as visitor permits for use by their visitors. 
Businesses may purchase business permits for vehicles which are essential for the efficient operation of their business.
Tradesmen may also purchase permits to use whilst carrying out work at addresses within a CPZ.
Map of one hour parking areas in Wandsworth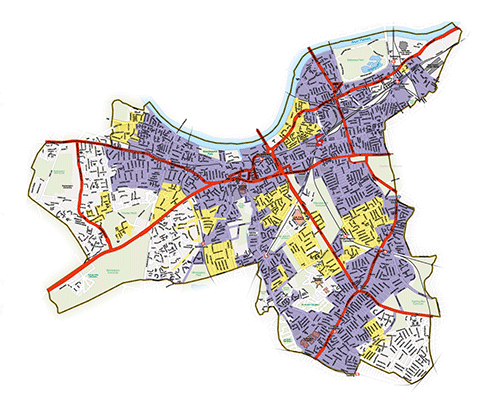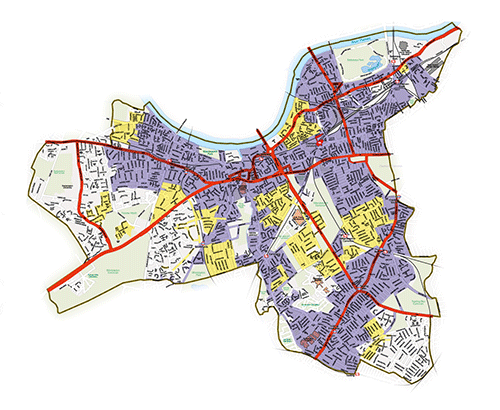 View large version of one hour parking areas map
Controlled parking zones key

One hour visitor permits are only valid in these areas.

They are not valid in controlled parking zones that operate all day.

Zones with all day controls where one hour visitor permits are not valid.
Priority (red) routes
Borough boundary
All day zone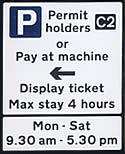 This operates for most of the working day (for example between 9.30am and 5.30pm) Monday to Friday. In some shopping areas, this can also include Saturday.
Bays are normally shared use being a combination of permit holders and pay and display. The time limit is often two or four hours, but there are a number of one hour 'shopper bays' in busy shopping areas.
There are also some eight hour bays around St George's Hospital in Tooting.
Parking zones map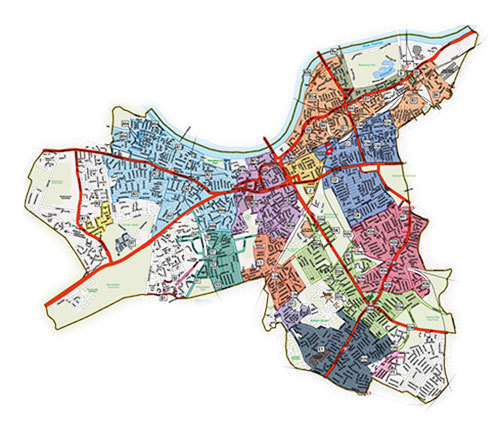 View large version of parking zones map
© Crown Copyright. All rights reserved.
Licensed to Wandsworth Council. LA 1000019270 (2011)
© Crown Copyright. All rights reserved.
Licensed to Wandsworth Council. LA 1000019270 (2011)
Disclaimer
Please see individual zone maps for additional guidance for each area.
This plan is for general information only and should not be relied upon to identify the exact location of zone/sub-zone boundaries or operational hours/days. The zone identifier is shown by a capital letter, and usually followed by a number. Where a lower case letter has been added to a zone identifier (e.g. L2a, H3b), it is for illustrative purposes only to indicate the various operational hours/days that exist in some zones and will not appear on permits. This plan gives no indication of eligibility for a CPZ permit. When parking, drivers should always check the parking signs relating to the bay in which they are parked. 
Any errors identified should be reported to parkingpolicy@wandsworth.gov.uk