Visiting the Customer Centre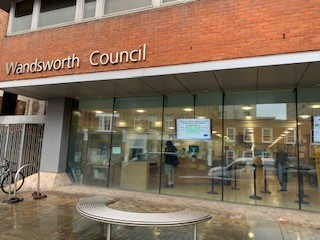 Receptions open for appointments only
Receptions at Wandsworth Town Hall and the housing reception in Putney Bridge Road are open and operating an appointment only service. There are usually plenty of appointments available at short notice. Please call in advance to book your slot.
Adult Social Care Access Team - 020 8871 7707

Electoral Services - 020 8871 6023

Housing and Homelessness - 020 8871 6161

Children and Family Support - 020 8871 7899

Council Tax/Housing Benefit - 020 8871 8081

Parking including Parking Permits - 020 8871 8871

For all non-urgent enquiries, please use our website where you can report, apply and pay for many of our services.
Visit our Register Office for births, deaths and marriages.
Visitor information for our Housing Reception.
Our address
Customer Centre
Wandsworth High Street
SW18 2PU
Opening hours
Wandsworth Town Hall: Monday to Friday, 9am to 5pm excluding Bank Holidays. 
Housing reception in Putney Bridge Road: Monday to Friday, 9am to 4.30pm excluding Bank Holidays.
View opening times for Customer Centre over the Christmas period.
What you can do here
Use our computers to access online services.
Speak to someone about:
Adult Social Care
Children's services
Council Tax
Environmental Services including pest control, trading standards and food safety
Home ownership
Housing Benefits and Council Tax reduction
Parking including permits, and parking bay suspensions
Planning
Voting and elections
Waste
Use our telephones to contact Council departments.
Contact
Phone: 020 8871 6000