Ceremonies in the Victoria Room
The Victoria Room accommodates up to 25 people.
The rich red theme and magnificent original art deco conference table provide a fine setting for your ceremony.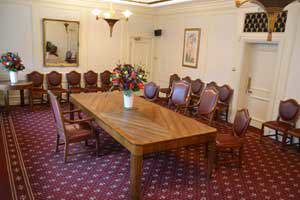 Capacity
The room capacity includes all attendees including the couple, witnesses, guests, children, and photographer, and cannot be exceeded.
Fee
Weekdays: £189 plus £11 per certificate
Saturdays: £208 plus £11 per certificate
Sunday/bank holidays: n/a
Prices valid 1 April 2023 to 31 March 2024.
Fee includes
Choice of ceremony
Choice of music (we can play CDs, USB sticks and MP3 players)
Personal vows
A reading
Please note this room does not have an aisle.
Important information
If giving notice for a ceremony in this room the venue must be recorded as:
 'The Town Hall, Wandsworth High Street, London'
Notices bearing the incorrect description will not be valid and will need to be amended or given again.
Paying
A non-refundable deposit is required at the time of booking. Full payment must be made no later than 2 months before the ceremony. If bookings are made within 2 months of the ceremony the fee must be paid in full at the time of booking. The Register Office reserves the right to cancel a ceremony if payment has not been received.