Ceremonies in the Elizabeth Room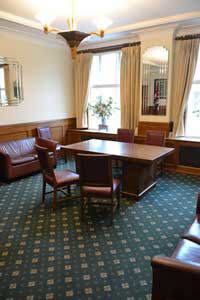 Capacity
The room capacity includes all attendees including the couple, witnesses, guests, children, and photographer, and cannot be exceeded.
Fee
Monday: £53 plus £11 per certificate




Tuesday to Friday: £117 plus £11 per certificate




Saturday: £165 plus £11 per certificate




Sunday/bank holidays: n/a



Prices valid 1 April 2023 to 31 March 2024.
Fee includes
A simple, minimalist ceremony
Exchange of the rings
Important information
If giving notice for a ceremony in this room the venue must be recorded as:
 'The Town Hall, Wandsworth High Street, London'
Notices bearing the incorrect description will not be valid and will need to be amended or given again.
Paying
A non-refundable booking fee of £50 is payable at the time of booking. This is redeemable against the cost of the ceremony plus one certificate. Certificates cost £11 each and can be ordered when making your booking. The Register Office reserves the right to cancel a ceremony if payment has not been received. Terms and conditions apply.