The main types of bays are shared use bays and shopper bays.
Shared use bays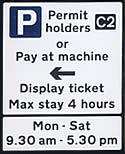 On-street pay and display parking is available in most controlled parking zones that operate all day (e.g. from 9.30am to 4.30pm).
Shared use bays are available to pay and display visitors and permit holders.
Maximum stay
The maximum stay allowed for pay and display generally varies between two and four hours depending on where the bays are.
In some areas there are longer maximum stay bays available. Generally, shared use parking bays near town centres allow a shorter maximum stay than those further out.
Signs displayed next to the bays clearly indicate the maximum parking time allowed.
Shopper bays

In roads close to shops and businesses, some pay and display only 'shopper' parking bays may be provided.
Maximum stay
These bays have a short maximum stay of 30 minutes or one hour, to ensure a regular turnover of vehicles in busy areas with a high demand for parking.
Operating times
Visitors should always check the bay signs carefully before leaving their vehicles as some pay and display facilities are only available at certain times (e.g. between 10am and 4pm) and outside these hours, other restrictions may be in force.
More information
Check the typical maximum stay

 

and days/hours of control in the area you intend to visit.