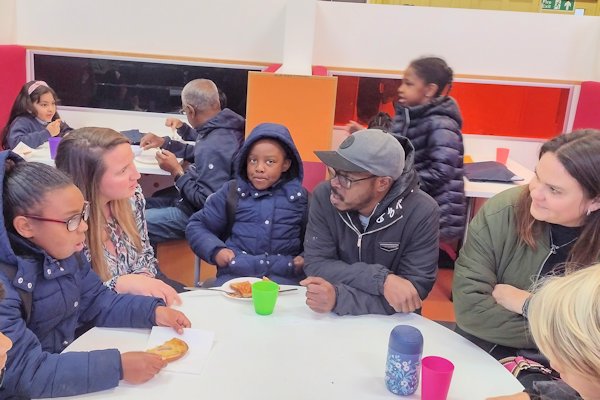 Working in partnership with Magic Breakfast, pupils at all the schools are offered a free, nutritious meal to start their day, helping combat growing food insecurity in our communities as well as providing our youngest residents with the fuel they need to learn. 
Families are invited to join their children for breakfast once a term at West Hill Primary School on Merton Road which is an element of the scheme that has helped strengthen the fabric of the school community. Kate Stock, cabinet member for children, visited the school last Friday (3 November) to see how the scheme was running eight months into the year-long council-funded pilot.
She said: "Getting the whole family's morning off to a good start helps this council realise our ambitions of creating a fairer borough for everyone. We believe in the right of every child to have access to healthy food, and addressing this inequality is an important focus for us."
The success of the pilot so far has been very promising. Over 90 per cent of schools taking part in the pilot said that breakfast had a positive impact on children's readiness to learn, and 82 per cent of schools said that breakfast had a positive impact on both attendance and punctuality. All the schools surveyed agreed that the breakfast pilot had alleviated pressure on family finances.
Richard Milsom, Headteacher at West Hill, said: "We have served over 2000 breakfasts at the school since the pilot began in March. The difference that it makes to the community is visible. People are going through hard times, and referrals to food banks are increasing. The breakfast club in partnership with Magic Breakfast, which runs daily, is providing the parents with some relief on what they have to fund themselves."