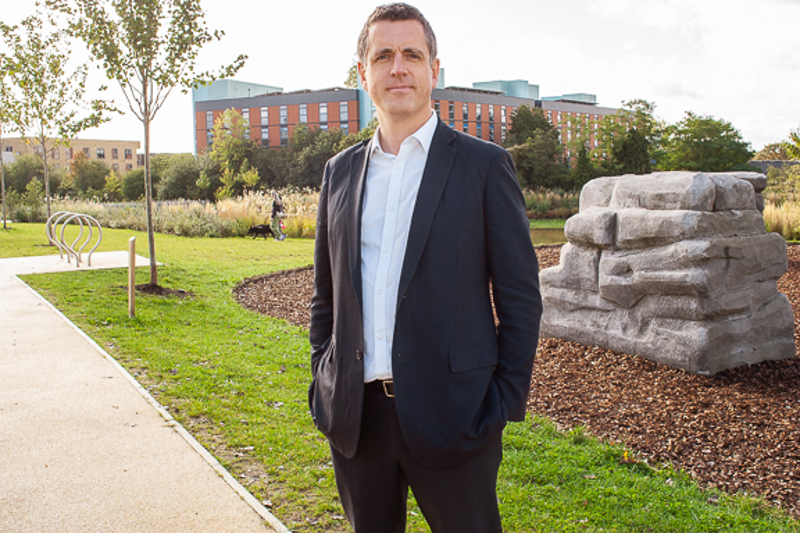 The 32-acre park in Tooting is opening in stages, with the first phase now available for the public to enjoy.
The full site will have a pavilion café, amphitheatre, gardens, children's playgrounds, ponds, a new footbridge and a youth facility. There will also be areas for sports activities that are accessible to all. 
The visit comes on the back of news that six of Wandsworth's green spaces scooped awards at this year's London in Bloom awards, given to parks that reach high levels of maintenance, conservation, facilities and the welfare of park users.  
Wandsworth Common, Tooting Common and Battersea Park received Gold awards while Wandsworth Park, Coronation Gardens and Fred Wells Gardens all received Silver Gilt awards. 
And in July Keep Britain Tidy announced that six Wandsworth parks would receive prestigious Green Flags, awarded to the best managed and maintained parks in the UK.  Green Flags now fly over Battersea Park, Wandsworth Common, Tooting Common, Wandsworth Park, King George's Park and Coronation Gardens. 
Simon Hogg said: "It's fantastic to see Springfield Park already being used by local families. It's a great addition to the 32 parks and green spaces local people already enjoy. Parks are crucial to the wellbeing of local people and the recent London in Bloom and Green Flag awards are testament to their quality here in Wandsworth.  
"Ahead of our bid to be London Borough of Culture we are delighted to add to our amazing green spaces which, alongside the vibrant diversity of our cultural offer and our incredible arts scene, demonstrate our ambitions to make Wandsworth the very best place to live, work and visit." 
Wandsworth has 1,600 acres of parks, commons and open spaces – the largest proportion for any inner London council. Two borough parks are listed by English Heritage – Battersea Park and Wandsworth Park.  
Wandsworth works with parks contractor Enable to manage, maintain and improve the borough's parks and keep them in top condition for both wildlife and local people who rely on them for exercise and relaxation.   
This includes work to improve and protect priority species, habitats and landscapes, with a new biodiversity officer brought in to work more closely with local people.  The council and Enable also work with parks' Friends Groups and with the Wandsworth Tree Wardens.
Find out more about the borough's parks at www.wandsworth.gov.uk/parks 
Notes to editors:
•    When completed, the park will be the largest (32 acres) new park created since the 2012 Olympics
•    The park has meant that no waste has been taken offside following the development of Springfield Village –  all 35,000m3 of soil (the equivalent 70 average family homes)  has been reused in the park
•    The new amphitheatre that will open in 2024 will be built using reclaimed brick from the construction of Springfield Village
•    The park's ponds are 'attenuation ponds' which are a sustainable rainwater collection system. 
•    The first part of the park involved us planting 700 new trees – the last one was planted by children from the local Fircroft Primary! 
•    When the next part of the park opens next year, 400 sustainably sourced trees and shrubs will be added followed by another 140 trees when the final part of the park opens
•    There are around four acres of wild grass and flowers creating vital wildlife corridors.
•    The park is home to 125 Geese, mostly Canadian but including some Egyptian Geese