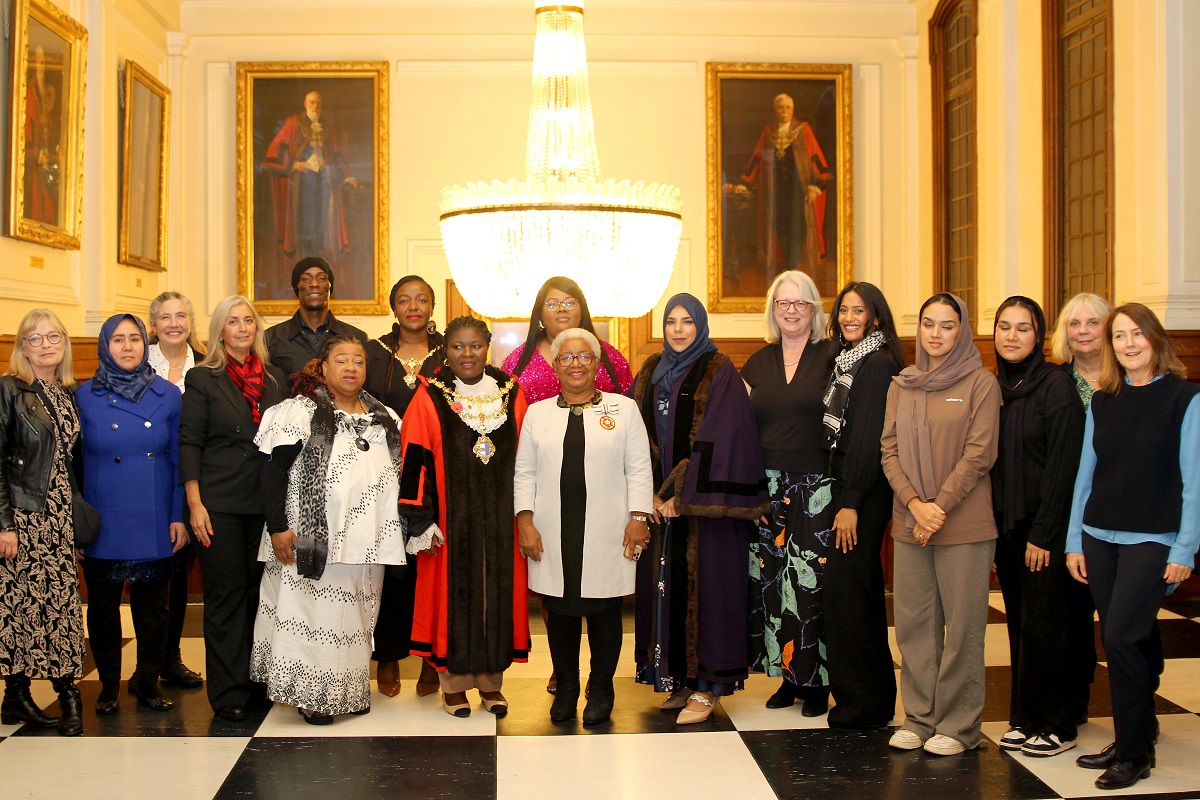 The Mayor of Wandsworth hosts the annual award ceremony at the Wandsworth Civic Suite for people who go out of their way to help others and who make outstanding contributions to their local community and the borough of Wandsworth as a whole. 
Entertainment on the night was provided by young musicians from Ark Putney Academy and the 2023 Wandsworth Young Musician of the Year recipient Alex Huang.
Wandsworth Mayor Juliana Annan presented eight awards and two special awards. She said: "The Wandsworth Civic Awards are the highest honour the council can award to truly outstanding citizens. 
"Our winners support some of the most vulnerable people in our borough, and their skill, dedication and tireless hard work make such a difference to everyone around them. It's an absolute honour to show them how much their efforts are appreciated by me, the council and the whole of Wandsworth."
The recipients of a 2023 Civic Award are:
Grace Salmon
Grace runs the charity Positive Network in Balham and works tirelessly for the local elderly Caribbean community. She has created a safe place for a group of elderly women in their 80s and 90s, nearly all ex-nurses.
Katherine Low Settlement (KLS)
Since 1999 the Katherine Low Settlement in Battersea has welcomed thousands of refugees to Wandsworth.  It runs free English classes for adults and children to build their confidence, help them integrate into British society and to bring together the local community.
Daren and JCT (Just Come together) work to keep young people out of the criminal justice system as well as providing other support such as food deliveries. Daren, fellow directors Jonathon Mason and Errol Harrison and a team of volunteers JCT volunteers have helped a whole community feel safe and supported.
Ian Tattum
Ian is the Vicar at St Barnabas in Southfields and has turned the church into a hub for the whole community. He is also active in other areas of Southfields life including Green the Grid and as a Governor at Riversdale School.
Teresa Harris
Teresa started Learn to Love to Read in 2014 to help make every Wandsworth child a reader, no matter their background. Today, as founder and trustee, Teresa has grown the charity to 60 volunteers working in eight Wandsworth primary schools with six part time members of staff.
Nasiya Vorajee
Nasiya is a health and wellbeing councillor and runs the local Foodbank at Battersea Mosque. Nasiya also goes out of her way to support and provide guidance for women who are facing difficult situations with their families and homelife.
Vicky Piggott
Vicky is a well-known member of the Roehampton community. She has worked tirelessly with the council and other organisations to campaign around Violence Against Women and Girl and leads on Roehampton's annual International Women's Day celebration. She is also a keen gardener and tends planters around Roehampton.
Doddington Roof Garden
The roof garden hosts a range of programmes and events such as school summer holiday programmes, workshops with a horticulture therapist and school visits. It's a haven in the heart of the city and has close links with community groups on the Doddington and Rollo Estate.
There were also two special awards:
Innovative, Inspirational Mental Health Initiatives - Maisha Sumah
Maisha is a member of the local Violence Against Women and Girls Forum, an award-winning mental health advocate, a mental health first aider and a youth mentor, as well as a volunteer at the Tooting Foodbank, where she speaks to people about their mental health.
Borough of Sanctuary Award - Care for Calais
Carey Sedgwick and Seema Khan from Care4Calais provide essential support for refugees and asylum seekers. They understand what is needed to improve the quality of life of people seeking sanctuary, and work to build their confidence in belonging to their new community.
15 runners up received Mayor's pin badges and will have their name added to the borough's Roll of Honour. They were:  
Angelo Rantac
Meg Fry
Deepika Makwana
The team of: Miriam Hilary, Kleio Kousi & Maria Fearon
Tatiana Dobreva
Michael Mapp
Carey Sedgwick
John Newbigin
Andrew Michaelides
Jacynth Bennett
Lisa Quarry
Tara Scully
Chloe Huttner
Jared Brading
Janneke Diemel