Public's views from consultation prove key to improving walking and cycle route plans for Burntwood Lane
Published: Monday, November 6, 2023
The council has published plans to improve walking and cycle routes in Burntwood Lane – shaped by feedback received earlier this year in a public consultation.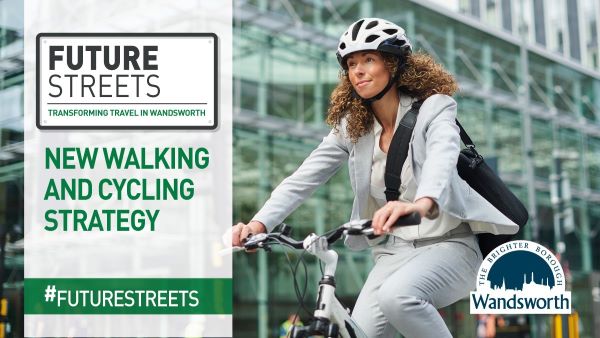 The proposals, which were backed by councillors at last week's (Thursday's) Transport Committee, have been drawn up to align with the views of local residents as expressed in the consultation.
Jenny Yates, Wandsworth's Cabinet Member for Transport, said: "I'd like to thank everyone who took part in the recent consultation for their constructive and helpful contributions. We have listened very carefully to local people and drawn up a series of proposals that reflect their views.
"This has allowed us to come up with a revised set of plans that will deliver better and safer routes along Burntwood Lane for both cyclists and pedestrians. Improving safety here will give more people the choice of making their journeys on foot or by bicycle."
Councillors on the Transport Committee approved the introduction of a protected cycle lane on the southern side of Burntwood Lane between Beechcroft Road and Aboyne Road, while on the northern side a mandatory 2m wide cycle lane is planned, segregated where possible, between Tranmere Road and Sandgate Lane.
Other measures include widening pavements on the northern side, and the installation of three zebra crossings along the length of Burntwood Lane and three more around the Beechcroft Road mini roundabout junction. 
In more detail, the plans are for: 
•    The installation of a zebra crossing on the existing refuge island opposite the pedestrian entrance to Garratt Green.
•    Raised footways (Copenhagen crossings) across side roads in Burntwood Lane to reduce vehicle speeds at junctions and improve pedestrian safety. These would be installed at Tranmere Road, Swaby Road, Dawnay Road Openview, Fieldview, the new Springfield junction, Ellerton Road, Marham Gardens and Sandgate Lane.
•    An additional pedestrian crossing east of Openview and another to serve the new junction at the Springfield site to the west of Ellerton Road.
•    A pedestrian and cyclist zebra crossing introduced just east of Sandgate Lane to allow pedestrians and cyclists to travel to the southern side. Two additional pedestrian zebras to facilitate safe movements are proposed on the remaining arms of this junction.
Moving forward, council highways engineers will draw up detailed designs for these safety improvements while letters will be delivered to local residents outlining the changes and seeking their input into the statutory consultation that will follow. All feedback from that consultation will be carefully reviewed and changes to the scheme made where necessary.