Plans unveiled to make parts of Putney Embankment traffic free
Published: Wednesday, November 15, 2023
Plans have been unveiled to pedestrianise a short stretch of Putney Embankment as part of a trial scheme designed to encourage walking and cycling along the riverside and make it more welcoming for visitors.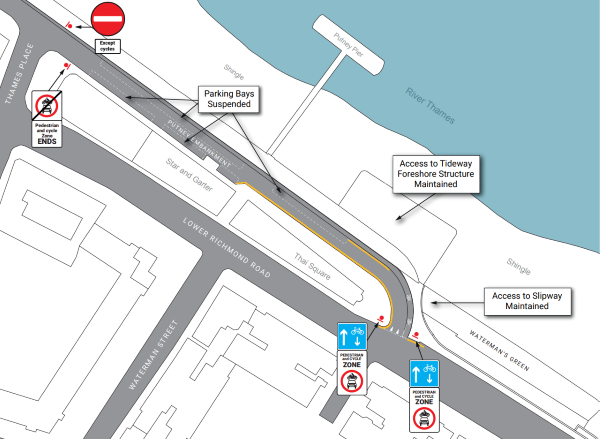 The trial scheme, which is scheduled to go live later this month on an experimental basis, follows the successful completion of the Thames Tideway super sewer works on Putney Embankment earlier this year.
As part of those works, the Embankment has been closed to vehicle traffic at numerous times over the past three years, and fully closed since June of this year, prompting the council to draw up plans for a pilot road safety scheme that would keep this part of the riverside traffic free.
The plans are subject to public consultation and local residents and businesses are being encouraged to have their say on the proposals. Letters inviting comments on the scheme have been delivered to around 3,500 households in this part of Putney and there is an online consultation for people to register their views.
Jenny Yates, Wandsworth's Cabinet Member for Transport said: "This part of the Embankment has essentially been closed to vehicles on and off for the past three years and local people have told us how much they enjoyed having a traffic free area next to the river.
"Given the positive feedback received about those temporary arrangements, we have drawn up proposals for a pilot scheme that would keep this part of the Embankment free from traffic.
"It's important local people have their say which is why we are urging them to take part in the consultation. Their feedback will help determine whether or not this pilot scheme is kept as a permanent feature."
During the trial, the area of Embankment between the Lower Richmond Road and Thames Place would be available only to cyclists and pedestrians. If residents or businesses require access for loading or unloading then permission can be obtained in advance by emailing either TrafficAndEngineering@richmondandwandsworth.gov.uk or parking@richmondandwandsworth.gov.uk.
Occasional vehicular access will be required to maintain the slip way, the Thames Tideway Foreshore Structure, Putney Pier and routine highway maintenance. 
To find out more about the scheme please email TrafficAndEngineering@richmondandwandsworth.gov.uk and quote Putney Embankment.