One week countdown to bigger and better Wandsworth Town Centre Library opening its doors
Published: Tuesday, November 7, 2023
Modernised new-look library opens November 14. 
Will offer full range of library and community services. 
Other councils closing libraries to save cash while Wandsworth is investing more.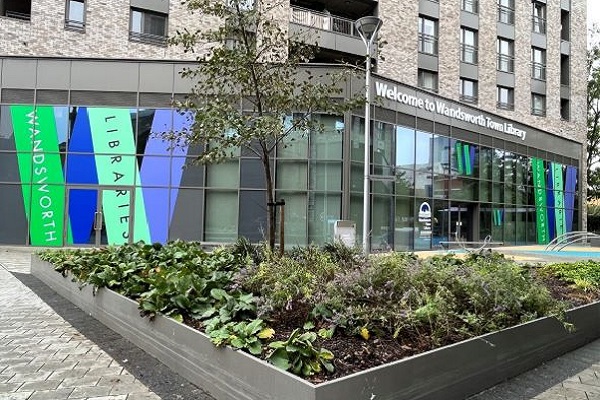 The one-week countdown is now on until the new-look, bigger and better Wandsworth town centre library opens its doors for the first time.
The modernised new town centre library opens on Tuesday, November 14 and will offer visitors a full range of library and community services.
From next Tuesday visitors will be able to borrow books, audio books, e-books and DVDs, surf the web free of charge, access the library's free wi-fi, use computers and hire meeting space as well as access printing and photocopying services plus a wide range of online reference tools.
It will stock more than 40,000 books and a separate and well-resourced children's library with its own separate toilets and baby changing area. 
People can also access daily newspapers and a wide range of magazines and periodicals.
It will be using heat pump technology with comprehensive insulation and other energy saving measures like double glazed windows to lower its carbon footprint and make the building more sustainable.
The new library is almost directly next door to the previous one – with its entrance accessed via the Old Burial Ground in Garratt Lane.   
Judi Gasser, Wandsworth Council's Cabinet Member for Environment said: "We are counting down the final few days until this fantastic new town centre library opens its doors for the first time.
"It is a bigger and better fully modernised library with a much larger children's section than was possible at the previous town centre library. This investment in library services comes at a time when many councils in London and elsewhere are closing theirs to save money. This is absolutely not the case in Wandsworth."
Earlier this year a new look bigger and better Northcote Library opened its doors to the public and has proved hugely popular in that part of Battersea with a more than 40 per cent increase in visitors. There has also been investment to upgrade the buildings at Putney, Tooting and York Gardens libraries.
Wandsworth libraries have also played a leading role in supporting residents through the cost-of-living crisis with three libraries at Roehampton, York Gardens and Battersea Park currently operating extended hours to offer warm spaces and shelter for those struggling to heat their homes. This winter there will be free groups, activities and social engagement across all Wandsworth libraries.
Wandsworth has 11 libraries and a home delivery service, which are all managed on a day-to-day basis by charitable social enterprise GLL, the country's largest public libraries provider.
GLL works closely with the council to ensure libraries provide the services local people want. This includes new e-resources and software, cloud-based printing and photocopying, more e-books, shorter waiting times for reserved items, free wi-fi and access to computers plus an extensive programme of free events including homework clubs, children's craft activities and story times, author readings and adult learning classes.