Major works at Tooting Bec Lido delayed
Published: Wednesday, May 31, 2023
Tooting Bec Lido has been undergoing major specialist repairs to make it fit for the future.
Unfortunately there have been unavoidable delays to this complex project, which will mean it won't be able to reopen as soon as was originally planned.
We are aiming to reopen the facility as soon as possible.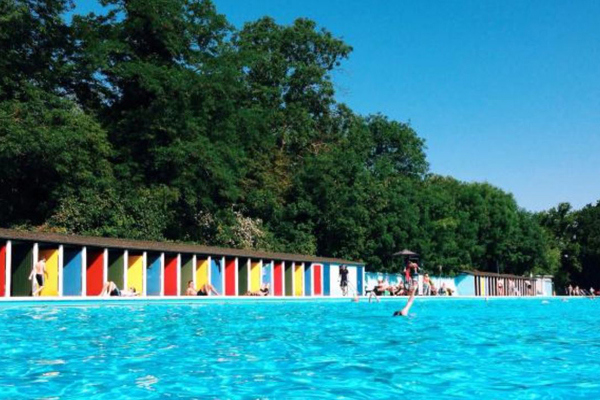 Tooting Bec Lido was first opened to the public in 1906 and is the largest open-air freshwater pool in the UK.
The existing systems at the lido have reached the end of their life and, in November 2022, a budget of £3.928m was agreed to allow essential maintenance works to take place.
Works have been ongoing since December 2022 to safeguard the pool's infrastructure for the next 50 years and make it fit for the future.
The works include replacing the existing pumphouses, which control the pool's water supply, and construction of a new electrical sub-station to power the pumps as well as upgrading to a new UV water filtration system and upgrading the associated pipework. There will also be a new pool liner and improved hard landscaping around the pool edge.
Due to unforeseen circumstances, the works at Tooting Bec Lido have been delayed and the pool will not be open in time for summer. We are aiming to reopen to pool later this year.
These are major, complex works being undertaken to a unique heritage asset, and projects of this nature often encounter unavoidable issues that cause delays. We are working to ensure that the lido can be reopened as soon as possible.
Issues encountered in the lido repairs include the discovery of unknown buried asbestos following demolition.
Judi Gasser, Wandsworth Council's Cabinet Member for Environment, said:
"I am so disappointed that we are not able to complete the works in the timescale we had hoped.   I love the Lido and will really miss swimming there over the summer, as I know many residents will.  
It vital that these essential works are carried out to preserve the lido so that may be enjoyed by the public for years to come. We are working to reopen the lido as soon as possible and are very sorry for the impact this delay will have."