Still time to submit your views on borough's new night time strategy
Published: Tuesday, May 10, 2022
There's still time for people to take part in an online consultation that will help draw up a raft of policies designed to boost Wandsworth's night-time economy and make the borough's streets even more welcoming and safe.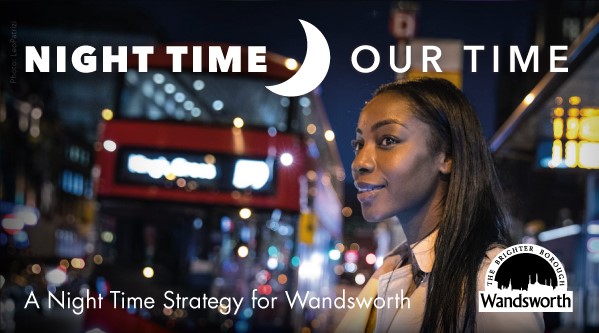 The new strategy aims to make the time between 6pm and 6am the best experience possible for everyone living, working and visiting the borough, while encouraging more people to explore the borough after dark.
It will explore how opportunities for socialising, creativity and fun can be maximised and celebrated, how businesses can be supported and how to ensure people feel safe and secure whilst enjoying the borough's nightlife.
Issues that will help shape the strategy include:
• Conditions for night workers
• How to boost the night-time economy to benefit local businesses
• Developing the borough as a destination for arts and culture
• Making the streets safer, including lighting, street design and transport at night.
The Leader of the majority party elected to serve on Wandsworth Council Cllr Simon Hogg said: "Wandsworth is a great place to enjoy a night out. It has some wonderful pubs, bars and restaurants and we want to do everything we can to support these businesses and secure jobs, while at the same time ensuring our streets are safe and welcoming for all.
"We want to hear from local people what they like about the borough's night-time scene and also what they think could be improved. We are keen to listen to their views so that we can deliver the best possible night-time strategy."
The strategy will be drawn up in stages – with the first phase of the public consultation continuing until May 27. The feedback obtained will help create a draft strategy later this year which will be subject to further public consultation.
To find out more and to submit their views and suggestions, members of the public can visit https://haveyoursay.citizenspace.com/wandsworthced/night/. People who would prefer to fill in a paper copy of the survey or view it a different language/format can email NTS@wandsworth.gov.uk or phone (020) 8871 6884.