Wandsworth Council has supported thousands of residents into local jobs and training

Working locally can reduce transport costs during Cost of Living crisis

Hundreds of employers use the council's Work Match service to recruit local people.
Since it was set up in 2013, Work Match has supported over 2,100 residents into work including 684 into apprenticeships. 
Work Match has forged links with local employers to help recruit residents into opportunities to work or learn within the borough. Jobseekers can register to be 'matched up' with suitable roles, as well as receiving pre-employment training, interview coaching, guidance with applications and ongoing support once they find work. 
'Helping to make Wandsworth a fairer place'
Kemi Akinola, Cabinet member for the voluntary sector, business and culture, said: "Our dedicated Work Match service focuses on finding local jobs for local people and supporting them through training for work.
"Working closer to home reduces travel time and transport costs which is particularly important during the cost of living crisis and is helping to make Wandsworth a fairer place."
"The Work Match team have worked hard to build good relationships with local employers to ensure they get the right candidates to help grow their business, which in turn boosts the range of apprenticeships and employment opportunities for people living in Wandsworth." 
'We value local jobs for local people'
The jobs service engages with businesses of all sizes located in the borough. Tailored support during the recruitment process helps employers to find the right candidates with an emphasis on hiring local talent where possible to reduce travel time and encourage greater job satisfaction.
Melanie Ashdown, director of local company AIM Solutions, said: "Support from Work Match is hugely valuable because it saves so much time and the good service and process reflects well on us as a business. We always strive to recruit from within Wandsworth because we value local jobs for local people."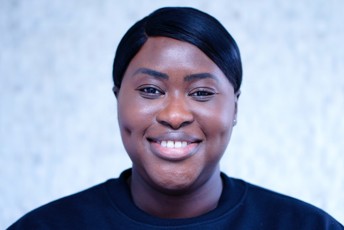 Job search: Work Match helped Anta with CV and interview skills
Wandsworth resident Anta found a job with AIM Solutions after looking for work for six months. Anta said: "The help from Work Match meant a lot as they helped me enhance my CV and prepare for interviews. I really felt supported throughout the whole process and even after getting a job their support was still there."  
Over the years Work Match has worked with a wide range of businesses including Cineworld, Battersea Power Station, Sainsbury's, Mace, charities, restaurants and over 750 high street and independent shops in the last three years alone. The council also secures a local employment commitment from developers and construction sites as part of their planning consent to ensure that residents can access new vacancies opening up. 
Age UK in Wandsworth said: "Approximately 50 per cent of our new staff in the last year came to us through Work Match. Every time we have a vacancy, Work Match is our first port of call!"  
Ready to work
Unlike other recruitment teams, Work Match is not driven by commission targets and only puts forward local candidates who are genuinely ready, willing and able to meet workplace demands.
Hanane Touaitia, of Wandsworth, became a Sales Assistant at Superdry's new Battersea store after attending a Work Match course. Hanane said: "I was not finding any success with job applications so I contacted Work Match and completed their Retail and Hospitality course. We then had the opportunity to attend a number of interviews. I went to Superdry where the store manager did a group interview on the shop floor before giving us tasks to see how we engage with customers. The next day I was offered a role."
Work Match advisors support candidates through the application process - including help with CVs and interview skills - to give them the best chance of success. The team also helps people with pre-job training and support they need to get ready for the workplace which has resulted in over 1,800 residents complete training courses.
Daniel, apprentice carpenter from Putney said: "I was unemployed when I signed up with Wandsworth Council's Work Match and needed some advice on how to find work. I wanted to be an apprentice carpenter and they were so helpful with providing details about apprenticeships and how to apply. Now I've got an apprenticeship it means so much to have this opportunity - it's great that the council is helping people to get trained on the job." 
Network of employers
Through working closely with Job Centre Plus, community organisations, local colleges and schools, running jobs fairs and pop-up advice sessions, Work Match has successfully established an integrated network of employment support across Wandsworth. 
Find a job
Meet local employers recruiting to hundreds of jobs and get advice from the Work Match team at Employ Wandsworth 2023 jobs fair - beat the queues on 26 May and book your free place now.
You can also get in touch or find jobs online by visiting wandsworthworkmatch.org 
Timeline - 10 years of Work Match
2013 Wandsworth Work Match opens its doors in September  
2013 Construction of the Riverlight development on Nine Elms Lane was the first project to recruit local unemployed people into new apprenticeships and work placements. More developers then signed up including at the Ram Brewery in Wandsworth Town. 
2016 Work Match placed its 500th candidate into a new role 
2018 Work Match marked its 5th birthday with finding work for its 1,000th candidate 
2019 New office opens on Falcon Road, SW11, for the recruitment service to link up hundreds more residents to businesses across the borough 
2020 Advisors worked online throughout the COVID-19 lockdowns, matching local people to available vacancies and online training. 
2021 1,000th Wandsworth resident into a local construction industry job 
2022 2,000th Wandsworth resident supported into employment 
2023 10 years celebrated with: 
Over 2,150 Wandsworth residents supported into local jobs

 

over 1,800 Wandsworth residents completed training

 

a new Housing Employment Team launched to support more local residents within local communities.