Double celebration at new housing development in Battersea
Published: Friday, March 10, 2023
Aydin Dikerdem, Cabinet Member for Housing, attended the groundbreaking ceremony, marking the start of construction.
Artist Dr Maria Gasparian collaborated with students at St John Bosco College to produce designs for the site hoardings
Once complete, Randall Close will deliver 106 new homes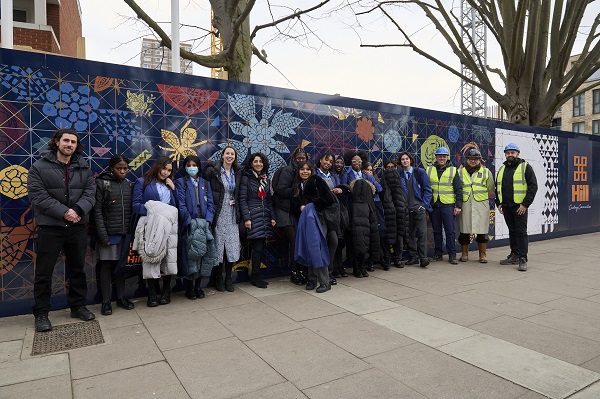 A double celebration took place on Wednesday 1 March as Wandsworth Council and housebuilder The Hill Group broke ground on the creation of 106 new homes at Randall Close, alongside the unveiling of striking new hoarding, created by local students and artists.
The groundbreaking ceremony marked the start of construction of new homes which will make an important contribution towards our Homes for Wandsworth programme, in which we are building 1,000 new council homes.
Aydin Dikerdem, Cabinet Member for Housing, said: "Having a decent home is the foundation for a decent life and I am pleased that work has started on 106 new homes at Randall Close. These homes will be prioritised for local residents, giving families a chance for an affordable rent in the area that they have already laid roots."
We also unveiled the development's new hoarding design. Entitled 'Randall Tessarae', the artwork was produced by artist Dr Maria Gasparian and print-maker Augusta Akerman in collaboration with students at St John Bosco College.
Kemi Akinola, Wandsworth Council's Deputy Leader and cabinet member for the voluntary sector, business engagement and culture, said:
"This public art commission has been a fantastic initiative from the council and The Hill Group, our partner on the Randall Close project. The development itself will provide new homes and this sort of work shows that we are just as interested in placemaking and building vibrant communities, as we are in building the homes themselves."
The designs are inspired by the craftsmanship of Jesse and Henry Rust - prolific and highly respected makers of decorative tiles and mosaics in the late 19th and early 20th century.
The Henry and Jesse Rust Mosaic and Tile Company was once based on Randall Street, now the Surrey Lane Estate, and examples of their work can still be seen at Battersea Arts Centre, The Victoria and Albert Museum and many other locations.
Dr Maria Gasparian, said:
"It's been great exploring the important local heritage together with St John Bosco College students who made fantastic work. I hope that the permanent artworks I am now designing will bring vibrancy and interest to the new public space within Surrey Lane Estate."
Permanent artworks by Dr Maria Gasparian, commissioned by the council, will also form part of the new public spaces at the Randall Close housing development, with enhancements that include a new and improved children's play area.
Simon Trice, Managing Director, The Hill Group said:
"This milestone marks our start on site to create much needed energy-efficient homes for the borough. It is wonderful to have shared this event with St John Bosco College who has been working with the incredibly talented Maria Gasparian to create the striking hoarding which has in turn created an extremely lively backdrop to the development."