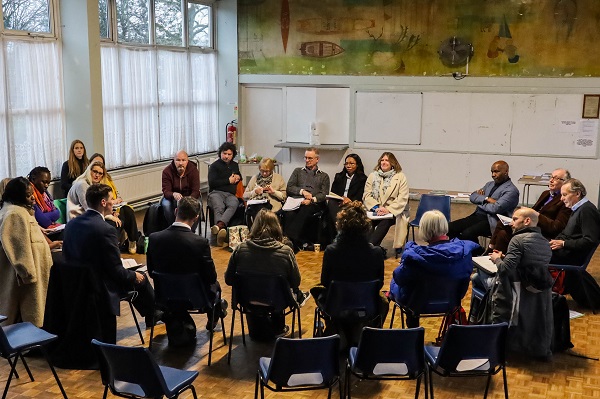 The independent group of experts set up by the council to help residents through the Cost of Living crisis is urging local people to come forward and share their experiences on how the financial crunch has affected them.
As part of its commitment to help residents through the current economic difficulties, the council has set up an independent Cost of Living Commission with a remit of identifying potential actions that the council, its partners, the wider community and regional and national government may be able to take to support local people through the crisis.
It will make its recommendations having listened to local people, businesses and organisations, as well as looking at all the available data and the latest research. Its areas of focus are to look at the impact of changes in the cost of food, housing, fuel, and transport on Wandsworth residents.
And as part if that process the commission is now urging local people to come forward and share their knowledge and insights in these four key areas.
The commission is particularly interested in the following points:
How the Cost of Living crisis is impacting Wandsworth residents, organisations, and businesses.
What people are doing differently because of the impact the crisis is having on their households.
Ideas and insights as to what long term change and action is needed to support residents with this and any future crisis.
To provide evidence to the commission please complete the online questionnaire or email your response to wandsworthcommission@wandsworth.gov.uk.
If you would prefer a paper copy of the survey, or in a different language or format, or if you need any assistance in submitting your evidence, please call (020) 8871 5401 or email wandsworthcommission@wandsworth.gov.uk.
All feedback received will be fully considered and help shape the commission's final report, which will put forward recommendations to the council and its partners around long-term solutions to support people through the Cost of Living crisis.
Deputy Leader of Wandsworth Council, Kemi Akinola, said "We have had good feedback from residents at the two public meetings we have held in Roehampton and Battersea.
"But we want to make sure that more voices are heard. We are aware that not everyone can make these meetings and that's why are providing other platforms for residents to feed in, so that we can shape our responses to fully meet the needs of our communities. It's so important for local people to take part in this information gathering process and I urge everyone to be involved in it."
Joint chair of the Commission Ian Tattum, Vicar of St Barnabas in Southfields, said: "The Commission is constantly learning from specialists, charities and community groups but wants to ensure that it also hears about the experiences of residents.
"We are particularly interested in hearing their ideas to mitigate the immediate effects of the crisis and come up with long term solutions which would benefit the whole community and the national debate."
The full list of commission members are: Reverend Ian Tattum and Dorian Leatham (joint chairs), Councillor Kemi Akinola (Deputy Leader of Wandsworth Council), Professor Alex Colas (Professor of International Relations, University of London), Beverley Corson (CEO Wandsworth Chamber of Commerce), Toby Costin (Director, Crewe Energy), Arshad Daud (Community Leader, Balham and Tooting Mosque), Lauren James (MP Smarter Travel Consultancy), Tylor Maria Johnson (Senior Policy and Data Analyst, Policy in Practice), Professor Tim Lang (Professor of Food Policy, University of London), Kath McDonnell (Officer, Battersea and Wandsworth Trade Union Council), Liz Moreton (Senior Producer, Battersea Arts Centre), Gillian Norton (Chair of St George's University Hospital, NHS Foundation Trust), Cathy Warwick (Non-Executive Director, Kingston Hospital NHS Foundation Trust) and a representative from Wandsworth Youth Council.
To find out more about how the council can help you through the current crisis please visit our Cost-of-Living hub.
Over the last few months the council has rolled out an extensive programme of support including: