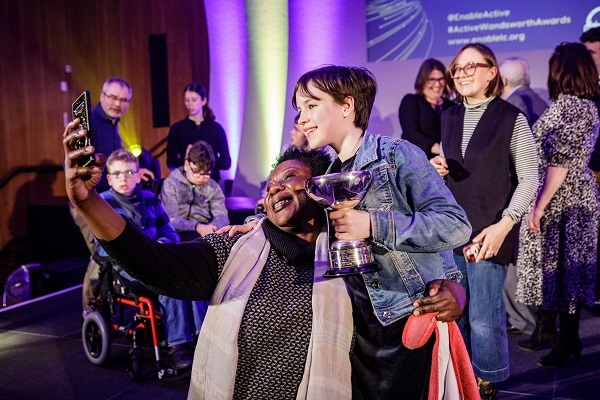 People, clubs, coaches and volunteers who have achieved outstanding success in sport and fitness have been honoured at this year's Active Wandsworth Awards.
The awards, which this year celebrates its 25th anniversary, highlights the dedication and achievements of those involved in local sports who have excelled over the past 12 months.
They give recognition to the individual athletes, clubs, organisations, coaches and volunteers who are fundamental to promoting and improving grass roots sport and physical activity in Wandsworth.
The awards ceremony was hosted by Sky Sports News presenter and reporter, Emma Paton, alongside special guests, Commonwealth Games beach volleyball bronze medallists Javier and Joaquin Bello who were jointly awarded Sports Person of the Year.
Nominations for the awards covered ten categories demonstrating the borough's incredible sporting talent as well as the commitment of grass roots sports organisations whose dedication to their sporting stars was being honoured.
Wandsworth's cabinet member for the environment Judi Gasser, said: "This was a really uplifting event full of inspirational stories of success and achievement. Everyone involved in these award nominations, not just the winners but also those who were runners-up or shortlisted, are fully deserving of the praise and recognition these awards bring.
"Sport and physical activity plays a hugely important part in all our lives and in our well-being, so recognising these inspirational people, from talented athletes to amazing coaches and volunteers, is so important."
The Active Wandsworth Awards are produced and delivered by the council's leisure and culture contractor Enable.
This year's list of winners are:
Sports Person of the Year: Javier and Joaquin Bello who won their Bronze medal at the 2022 Commonwealth Games in Birmingham.
Junior Sports Person of the Year: Awarded jointly to Amalia Freeland & Julia Marczak. Amalia is a triple World Champion and broke two world records at the Down Syndrome World Swimming Championships, while Julia has had Judo success at European and World level and is now ranked third in the world in her category.
Physical Activity Project of the Year: Awarded to Storm Family Centre for its outreach work in and around Battersea's Doddington Estate. The organisation started as a self-help group for lone mothers but has expanded its services to work with a wider range of people providing a holistic service for all members of the family and using sport as a catalyst to engage and support young people with mentoring, training and opportunities into employment.
Sports Club/Organisation of the Year: Awarded to Spencer Lynx for delivering a targeted Hockey programme in local schools and increasing participation levels and links into local playing opportunities.
Active School of the Year: Smallwood Primary School in Tooting.
Volunteer of the Year: Awarded jointly to Angelo Rantac, Emma Watson, Kate Baldwin, Keith Newton, Marilyn Walker and Zoe Goodwin.
Young Volunteer of the Year: Awarded jointly to Phoenix Green, Marcell Kodom-Nyamekye and Attila Chilanga-Halbritter.
Coach/instructor of the Year: Awarded to Tunde Balogun for her work supporting LGBTQ+ young people to lead more active lives.
The Mayor's Award: Awarded to Wandsworth Amateur Swimming Association's Disability Swimming (WASADS) Supported Family Swim Programme.
Special recognition for their Outstanding Contribution to Sport and Physical Activity: Awarded to William Collins for his work with WASADS.