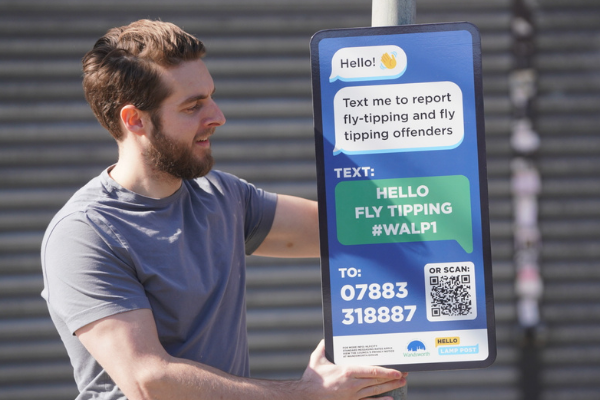 Local residents can now report fly-tipping using a QR code or by text message on a series of lamp posts near fly-tipping hotspots around the borough.
Large blue signs encourage residents and visitors to tell the council about fly-tipping or to talk to a chatbot and report anyone they see fly-tipping with a full report, including where the offence happened, what it is, who is responsible and supporting video or photo evidence.

The benefits are clear with a simple route to efficient reporting of an incident for the resident as well as the visibility of a QR code and its connotations which will in turn act as a serious deterrent for fly-tipping offenders.

UK software company 'Hello Lamp Post' has installed the QR codes on behalf of the council, following many successful community projects. 

It's all part of the 'Hello Lamp Post' vision for better democracy, co-founder Tiernan Mines explains: "Using the infrastructure that already exists in cities and towns to make them more interactive we can bring more voices to the table. It's a great way to increase diversity by opening up conversations with the local community.

"Our aim at 'Hello Lamp Post' is to increase reporting and decrease fly-tipping, as well as helping to improve local areas. Wandsworth is the first place we have turned our technology to the fight against fly-tipping, so we are excited to see what a positive difference this can make."

The council's environment spokesperson Councillor Steffi Stutters says: "We all care about our borough and keeping the streets clean and tidy is a high priority for residents which is why we are incorporating the best technology available to help us overcome fly-tippers.
"By providing an efficient service everyone can use, it's our way of sending a message to fly-tippers that we just won't stand for it anymore. Wandsworth is united and will not be beaten by those who don't respect the local areas.
"At the same time, we continue to do our part. Our busy town centres are cleaned up to five times a day. We clean more than 400km of streets every week. And between 2020 to 2021 we issued more than 5,150 fines for littering and fly-tipping offences across the whole borough."
Remember residents don't need to see one of the new signs to report fly-tip offenders:
How to report a fly-tip offender
If you see someone dumping litter or fly-tipping, we need as much information as possible to help us prosecute the offenders:
Tell us what you saw: where, when and a description of the fly-tip/incident, along with a description of anyone involved.
A description and/or the name and addresses of the people involved and the actual location would also be helpful.
Try and film or photograph the incident, ideally with a date and time stamp. But please don't put yourself or others at risk. The higher res the picture, the better.
We need to know what sort of rubbish has been dumped – the amount and type of waste e.g. a few bags of rubbish, a fridge or a sofa.
If relevant make a note of the vehicle registration number and a description of the vehicle.
Phone: 020 8871 8558 (Option 2)
Rubbish, recycling and bulky waste collections
Below is all the information residents need to dispose of their waste correctly,