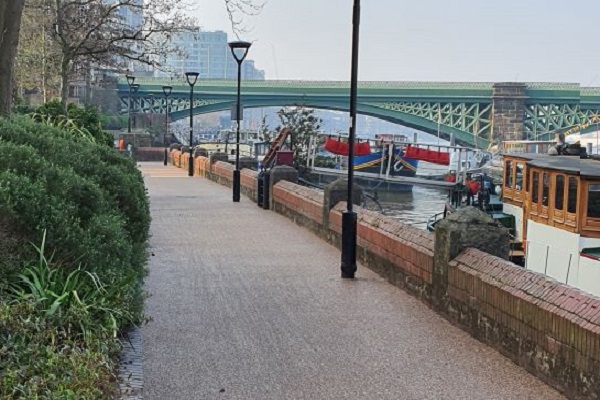 Vicarage Gardens has benefited from the planting of attractive new shrubs and greenery, while a new high quality smooth resin surface has been laid on the footpath.
The work is part of the borough's £5m urban renewal scheme which is delivering a series of refurbishments and improvements to Wandsworth's streets, green spaces and travel infrastructure.
A key element of the project is a series of improvements to the borough's Thames riverside walkways.
As part of these improvements, new and better street lighting is currently being installed along The Causeway in the first phase of a more extensive lighting upgrade project there, while further lighting upgrades have been completed at Battersea Bridge Square plus the bridge at Wandsworth Riverside Quarter and the footbridge near Battersea Heliport.
Pedestrian safety enhancements include wall mirrors being installed on Thames Path blind corners, including at Vicarage Gardens.
Other planned improvements include upgrades to paving, planting and public benches at various points along the promenade.
Transport spokesman Cllr John Locker said: "Wandsworth is blessed with an extensive Thames riverside vista, stretching from Leader's Garden in Putney to Nine Elms and most of this is publicly available for walking and for leisure.
"These riverside paths saw a big increase in visitor numbers during the pandemic and the council wants to ensure that these spaces can continue to be enjoyed by our residents, which is why we've unveiled a comprehensive package of improvements in places like Vicarage Gardens.
"The new greenery planted here is a really attractive feature and will not only make it a more pleasant and colourful leisure destination but also help enhance local bio-diversity."