No litter pledge – local businesses have been signing up to help tackle littering
Published: Thursday, March 24, 2022
Local businesses have been signing up for the council's "No Litter pledge" to tackle littering in town centres. In return, they receive publicity to demonstrate their support for the pledge and encourage their customers to do the right thing with their litter.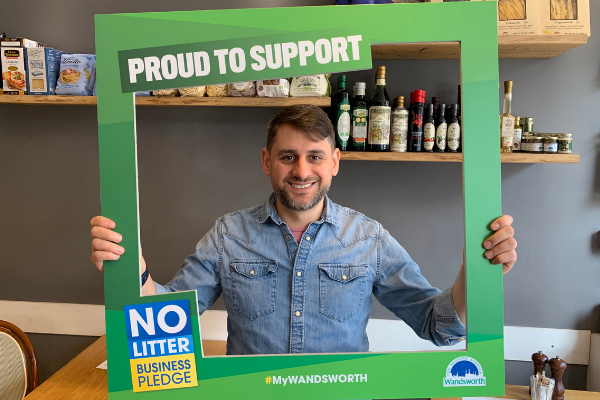 Civic-minded businesses have pledged to pick up litter outside their premises and nearby hotspots, as well as doing the right thing with their waste.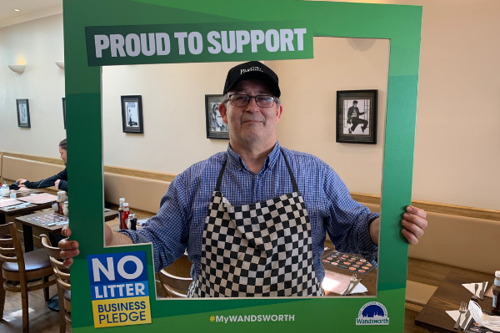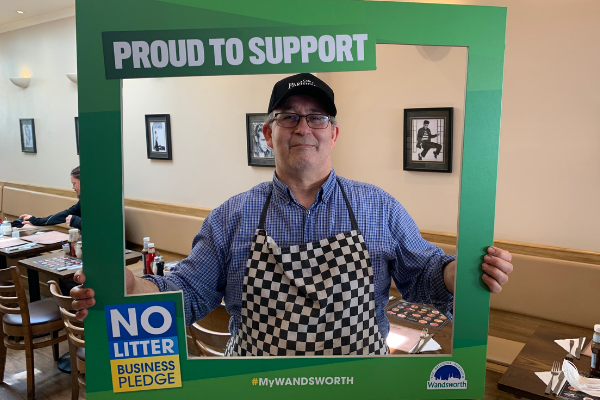 Cafe Parisienne, Lavender Hill, Battersea. Follow Café Parisienne on Instagram and Facebook  
 
Councillor Steffi Sutters, Cabinet Member for Community Services and Open Spaces said, 
"We understand that running a business is a challenge, especially over the last couple of years. So, we want to do all that we can to support local businesses and encourage everyone to visit their local shops and town centres. 
 
"As a council, we work hard to keep the borough clean and tidy all year long. Our busy town centres are cleaned up to five times a day. We clean more than 400km of streets every week. And between 2020 to 2021 we issued more than 5,150 fines for littering and fly-tipping offences across the whole borough. 
"But sadly, this isn't enough. Some people think it's ok to drop litter on the ground. It's not.  
 
"By working together, in a joint initiative, residents, business and the council can all play their part in keeping litter off the high street. After all, no one likes a messy town centre; it's not good for business and it doesn't attract customers."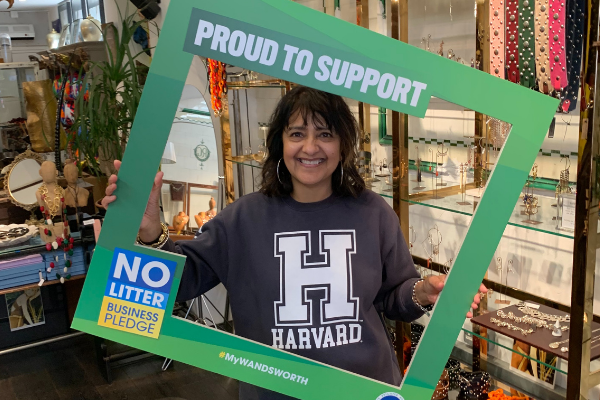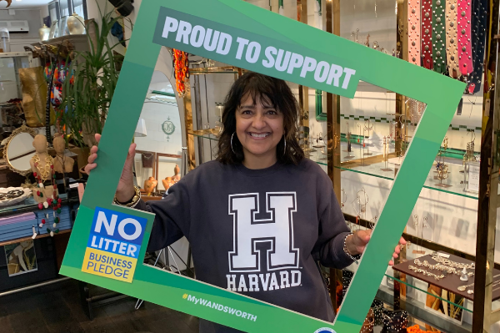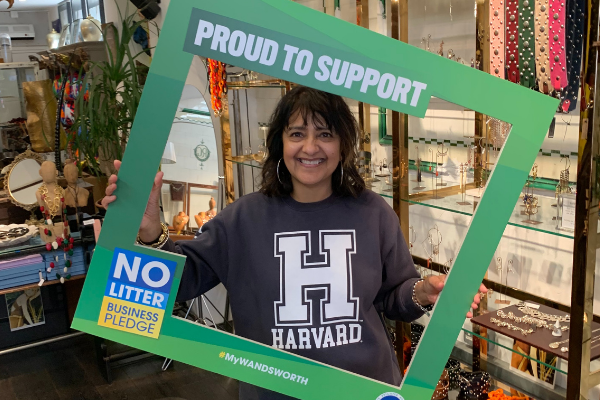 Local business owner Sam Ubhi of Sam Ubhi Jewellery in Balham said:  
"I already clean outside my shop twice a day so am pleased to sign up this pledge. Dog mess and cigarette stubs are a big issue here, so I ask people to please do the right thing with their litter – take it home or use a bin." Follow her on Instagram and Facebook.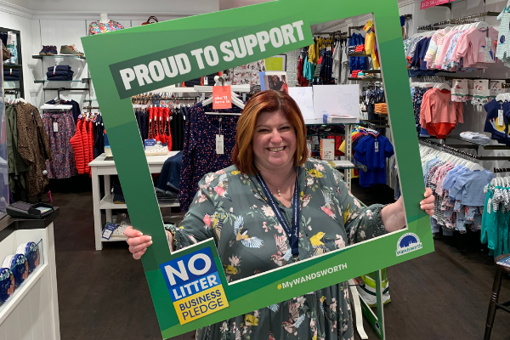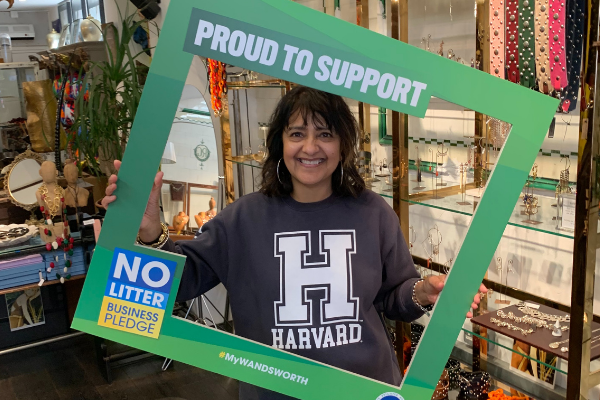 Joules, Northcote Road. Follow Joules on Instagram 

The pledge is part of the council's wider My Wandsworth campaign that aims to keep the borough looking at its best. 
Businesses commit to five actions: 
Pick up litter:

 pick-up litter near their business, at least once a day, and dispose of it/recycle it as part of your business waste collection. Litter includes items such as crisp packets, cans, cigarette butts and fast-food packaging. This includes any nearby litter hotpots on the high street.



Ask customers to bin it:

 encourage customers to bin their litter and do the right thing with snack, take away and plastic packaging.



Keep waste off their streets:

 keep trade waste on their premises, until it's the 

right time to be collected

. Rubbish on the pavement makes the area look messy and no one likes an untidy street, it's not good for business.



Use a legal waste carrier:

 use a licensed waste carrier to collect their business waste. Businesses can check that a waste carrier is licensed on the 

Environment Agency Website

.



Promote the campaign:

encourage other businesses to sign up to the pledge and get involved.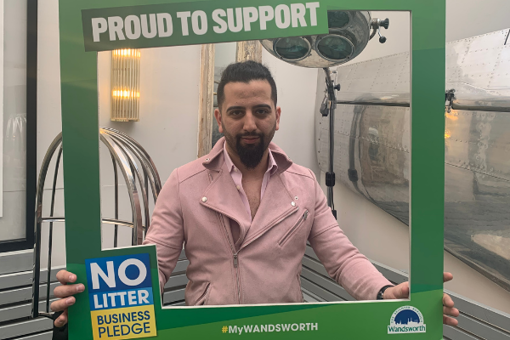 Eclectic Coffee, Earlsfield. Follow Eclectic Coffee on Instagram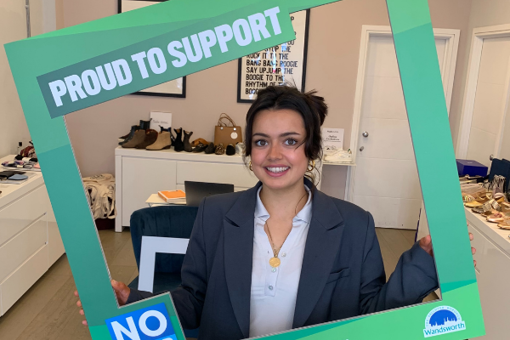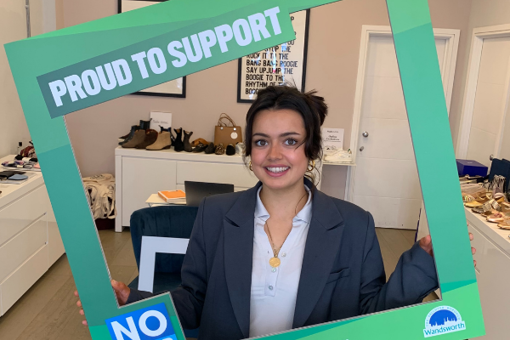 MadetheEdit, Northcote Road. Follow MadetheEdit on Instagram and Facebook