Leading councillors formally endorse reduction in borough's share of council tax bills
Published: Tuesday, March 1, 2022
Senior councillors who form the town hall's cabinet of leading members last night (Monday) formally endorsed proposals to reduce Wandsworth's share of council tax bills.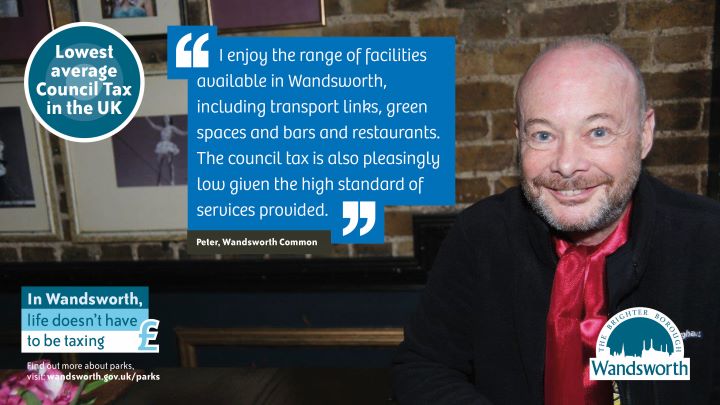 The council's Executive voted in favour of reducing Wandsworth's share of bills by one per cent. Wandsworth is the only council in London set to cut its portion of bills for the next financial year beginning in April.
Council leader Ravi Govindia said: "With households facing rising energy bills and other increasing costs, it is more important than ever for the council to be making sure our residents get true value for money by paying the lowest possible council tax bills while still enjoying high quality services.
"Wandsworth has an unrivalled track record over many decades of making sure its residents pay some of the country's lowest council tax bills and I'm proud that this year we appear to be the only town hall in London planning to actually reduce our share of bills."
Over the past four years, Wandsworth residents have saved thousands of pounds in council tax when compared to neighbouring boroughs.
Comparing average council tax bills over that four-year timeframe shows that in Dyers Lane in Putney where the boroughs of Wandsworth and Richmond meet, residents on the Wandsworth side of that road have saved £4,847 over the past four years.
Similarly in Roehampton Vale where Wandsworth meets Kingston, average bills in Wandsworth are £4,406 lower over that same period.
A study of average bills among all neighbouring boroughs over the past four years shows the following:
Average council tax bills – Total for last four years
• Richmond - £7,774
• Kingston - £7,333
• Merton - £5,640
• Kensington & Chelsea - £5,593
• Lambeth - £4,651
• Hammersmith & Fulham - £4,073
• Westminster - £3,291
• Wandsworth - £2,927
Average bills across all the 32 London boroughs over the four years totals £5,174
Cllr Govindia added: "Wandsworth is in a unique position to be able to do this because of the way we have carefully and prudently managed our finances over the years. That efficiency is now reaping the benefits for our residents with a net decrease in our share of council tax bills planned from April."
Overall bills will increase because the Mayor of London is increasing the GLA's share of council tax by 8.8 per cent, meaning the GLA precept will rise by almost £32 a year.
This takes Wandsworth's average Band D council tax bill for next year to £872.55 - of which £395.59 is payable to the Mayor.
Cabinet member for finance, corporate resources and climate sustainability Cllr Kim Caddy, said: "Low council tax is synonymous with Wandsworth because of the efforts this council goes to in looking after its money properly and most importantly of all looking out for our residents. We hope these proposals will really help make a difference and help residents keep their household costs down as we all continue to emerge from the pandemic."
A final decision on the plan to reduce Wandsworth's share of bills by one per cent will be voted on by all 60 councillors in Wandsworth at the meeting of the full council on March 9.