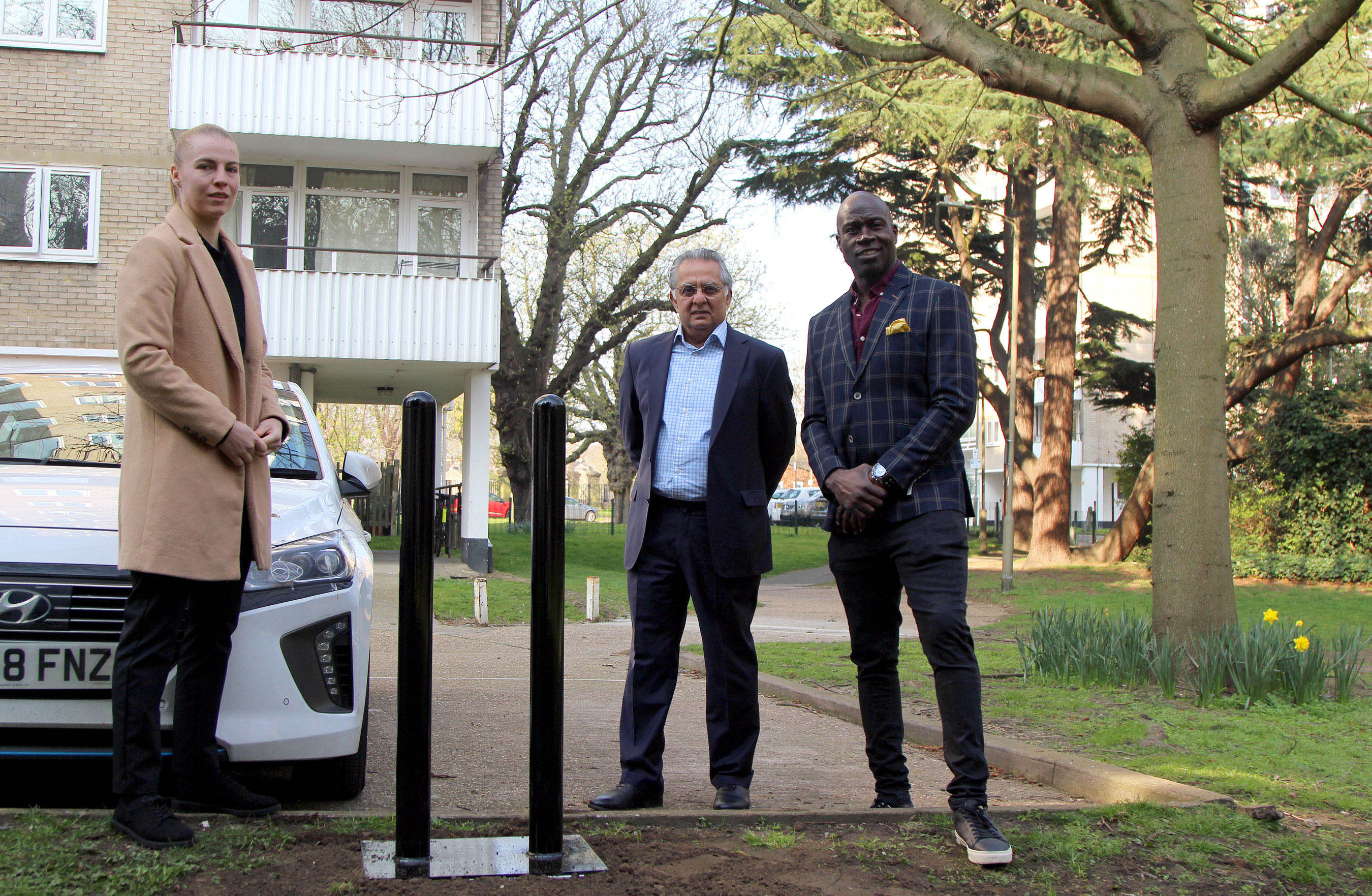 The EV charging points were installed between 14th and 23rd March and have been provided by Connected Kerb, one of the UK's leading providers of EV charging infrastructure solutions. There is a total of 10 charging points, two outside each of the five blocks on the Fitzhugh Estate.
Cllr Ravi Govindia, Leader of Wandsworth Council, visited the site while the charging points were being installed. He said:
"Electric Vehicle ownership is on the increase and many of our residents are actively considering making the switch to electric or plug in hybrid vehicle. An important consideration is how and where residents can charge them. This pilot scheme will provide residents of the Fitzhugh Estate with the key infrastructure to encourage them to make the switch."
To use the charging points residents will have to download the free Connected Kerb app and pay per charge. Residents will not be charged for the installation of the charging points.
The scheme is supported by the Fitzhugh Grove Residents' Association, Malcolm Newton, who is a committee member of the residents' association, said:
"It is excellent news that the Fitzhugh Estate has been chosen as a trial estate for the installation of electric vehicle charging points.  As we all know, the transition to electric vehicles is underway.  So, making this facility available to residents will be invaluable for those who already have plug-in hybrids and will be an encouragement to other residents who are contemplating making the transition in the near future."
Usage of the charging points will be monitored and the outcome of the pilot will help inform how Wandsworth Borough Council proceed with rolling out more charging points across its housing estates in the near future
Isabel James, Head of Residential for Connected Kerb, who has managed the Fitzhugh Estate pilot project, said:
"This pilot scheme will allow Wandsworth to have a blueprint for future deployments across their housing portfolio which will enable residents to charge at home where it is most convenient and cheapest. The team at Connected Kerb are working hard to ensure EV charging is affordable, sustainable and accessible to all, by breaking down the current adoption barriers for residents without a driveway."
According to research by Autotrader, there are over 275,000 charging devices in the UK. Since 2015, public charging devices have grown by 43% year-on-year and this growth will continue with the government setting ambitious targets of introducing 145,000 new charging points every year from 2030 onwards. As of March 2022, Wandsworth now has around 930 EV chargepoints, including standalone chargepoints and lamp column chargers.
Wandsworth is continuing to lead the way with the provision of public charging facilities, with almost 1,000 charging points installed by March 2022 and further roll-outs planned later in the year.