Swimming club exhibits its plans for further upgrades to Tooting Bec Lido
Published: Wednesday, February 22, 2023
Swimming club unveils plans for new lido facilities 
Plans exhibited at Tooting Common's Woodfield Pavilion 
Proposals complement council's existing £3.8m investment to safeguard the lido's future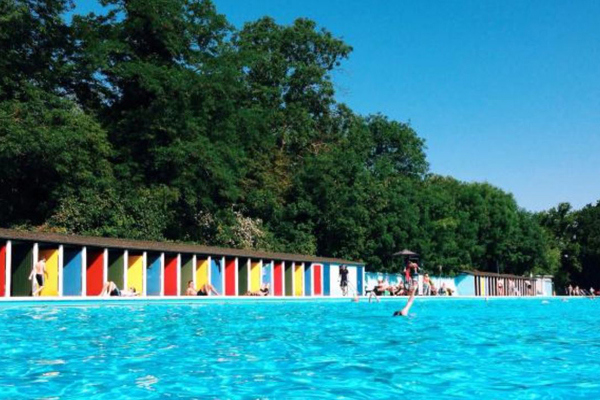 The South London Swimming Club (SLSC) is staging an exhibition later this week to publicise its plans to further enhance the facilities at the popular Tooting Bec Lido.
The club has been working with WR-AP Architects to develop a series of proposals that would improve visitor facilities at the pool's shallow end changing area and in the lido's café.
These include a new entrance with improved security, a more flexible café, accessible from the common as well as the pool, more toilets and showers and a club room for winter use.
The proposed improvements will be available for public display and discussion at the Woodfield Pavilion on Tooting Common this Saturday (February 25) between 10am and 1pm.
If approved the proposals would be a further enhancement of the lido and complement the council's current and ongoing £3.8m refurbishment of the much-loved open-air pool which is designed to safeguard its future for the next half century.
This involves the replacement of the existing pumphouse, which controls the pool's water supply and construction of a new electrical sub-station to power the pumps and also the lido's modern new UV water purification system.
New pipework and filtration system, new pool liner and improved landscaping around the water's edge also form important elements of the scheme.
The 90-metre-long lido dates back to 1906 and is the largest open-air freshwater pool in the UK, occupying a unique position in the history of British lido's due to its size and the era in which it was built. It is regularly described as the "jewel in the crown" of Wandsworth's sports, leisure and fitness facilities.
Cabinet member for Environment Judi Gasser said: "The South London Swimming Club is an important and valued partner in our work to improve and safeguard the future of our wonderful lido.
"I would urge local people to visit the exhibition and find out more about the club's plans to enhance and support the work we are doing to preserve and protect the lido for many decades to come."
For more information about the club's proposals please visit https://www.slsc.org.uk/future-lido/