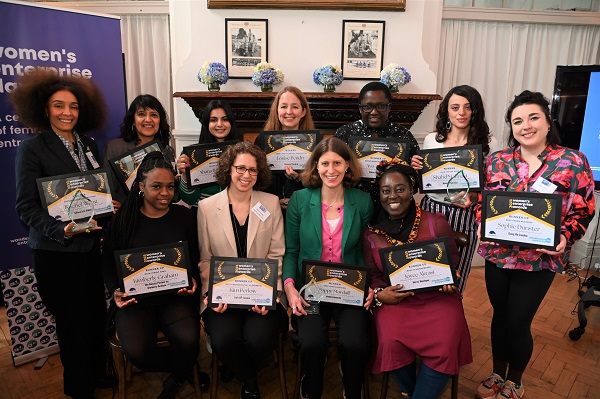 The results were announced at Women's Enterprise Day on March 29 attended by more than 100 people.
This annual event is a chance for local women in business to network, take part in workshops and hear motivational discussions, talks and interviews. It was organised by the council's business support team and held at Putney Rowing Club.
The winners of the Wandsworth Enterprising Women's Award are:
Best week ever! We @ChocolateFilms moved into our new studio https://t.co/VRlN04ObnX and in e same week I won Entrepreneur of the Year 2023 @BusinessWandBC Super grateful to all of our #wandsworth collaborators, friends and clients and of course my partner @MarkSCurrie pic.twitter.com/N9P0Qgp9f0

— Rachel Wang (@RachelALWang) March 31, 2023
Entrepreneur of the Year
Best Green Business
We won Best Green Business at Wandsworth Enterprise Awards! Total @poppysfunerals TEAM EFFORT, this one. Proud of the big & small steps we're taking. Thanks @BusinessWandBC! #greenbusiness #greenfunerals pic.twitter.com/Wh9jkRMriL

— Poppy Mardall (@PoppyMardall) March 31, 2023
Made in Wandsworth
Best Social Enterprise
Rising Star
Winner - Ahana Banerjee from

 

Clearapp
Runner up - Kemilia-Jean Ogunmuyiwa from Mud Café
Highly commended - Begum and Bike Ayaskan from

 

Aerseeds
The High Street Hero award (voted by the public)
Kemi Akinola, deputy council leader, attended the event and congratulated the winners. She said: "It was such a pleasure to meet all these fantastic women and well done to all the deserved winners. The event provided much needed space for business women to network, inspire each other and enjoy a fabulous lunch. I encourage everyone to nominate a deserving local business woman next year.
"We know the challenges faced by women in business and we want to help all of you succeed. Get in touch, tell us what you need and let's create a strong, prosperous and supportive Wandsworth business community."
Visit the Wandsworth Enterprise Hub for more information about support for Wandsworth businesses.