Wandsworth based voluntary group's appeal for a new home so they can support hospital workers in war-torn Ukraine
Published: Friday, April 29, 2022
A Wandsworth based voluntary organisation which rose to prominence during the pandemic when it turned its attention to making vitally needed PPE for hospitals, clinics and care homes, is appealing for help in finding a new home.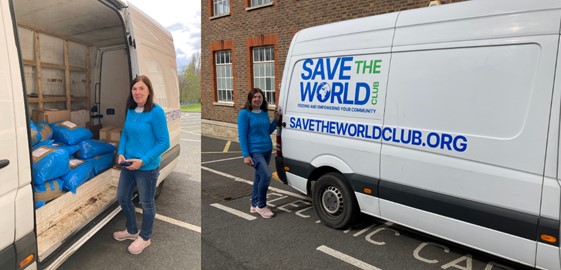 The Scrubbery was launched in January 2020 by Rosie Taylor-Davies, a costume maker who had previously worked in film and theatre, when the lack of protective clothing for clinical teams in the NHS and care sector was threatening to undermine efforts to tackle the virus.
Rosie and her team of volunteers began manufacturing protective medical clothing – producing more than 45,000 pieces to support frontline nurses, doctors and care workers.
And now, as their attention has turned to supporting a hospital in the war-torn Ukrainian capital of Kyiv, they desperately need a new home to carry on their vital work – in an appeal supported by the Mayor of Wandsworth Cllr Richard Field.
He said: "The hard work and dedication of Rosie and her colleagues are truly worthy of all our thanks and praise. Their efforts throughout the pandemic no doubt helped save many lives and for this we are truly grateful.
"Now there is a chance for our community to repay those efforts. Rosie and her team need to find a new home so that they can continue their vital humanitarian work which at the moment is helping save lives in Ukraine."
Rosie, a 2021 Wandsworth Civic Award winner, said: "Sadly we are having to move from our current workspace and are desperately searching for a new home.
"Although the covid pandemic in the UK has entered a new phase and the need for PPE in this country is not as pressing as it was, we are now providing surgical aprons and scrubs to the Kyiv Regional Hospital and other clinics in Kyiv, and also to the Lviv Field Hospital. So far we've sent 510 sets of scrubs, 80 nurse's uniforms and 500 scrub hats.
"Alongside these we have also sent camouflage netting which we are making from scrap fabrics and dyed bed sheets and using football and hockey nets as the base to attach the fabric to. As well as a new home we are also looking for new volunteers to help these efforts.
"If anyone is able to let us use their space – a church hall, a large storage area or a warehouse, we would be so grateful and it would allow us to continue supporting nurses and doctors saving lives in a war zone."
The accommodation would need to have power, basic amenities and lockable space, preferably be in the Roehampton or Putney area and offer seven day a week access, plus if possible some space for parking. It would ideally be big enough to accommodate a ten metre long cutting table – but the Scrubbery says it is flexible - and any offers would be gratefully received.
If you can help Rosie and her team find a new home, or you'd like to volunteer, please email scrubbery.stitch@gmail.com.