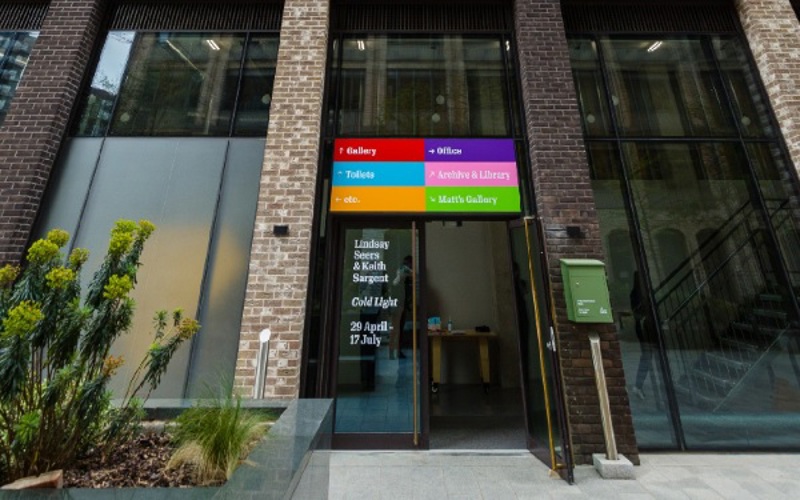 The Mayor of Wandsworth attended the opening event, along with supporters of the gallery to mark the launch of their first exhibition, Cold Light by Lindsay Seers & Keith Sargent, a new film, Virtual Reality work and installation.
The innovative gallery space, now open to the public, is located between the U.S Embassy building and Arch 42, around the corner from the newly opened Nine Elms Tube Station.
Designed with architects Manalo & White, the space can adapt between an artist's workshop and a gallery space, with an unfinished, industrial look that is intrinsic to Matt's Gallery.
The fit out of the 7,000 square foot space is taking place in two phases. The first phase has unveiled a performance and events space and a publicly accessible home for Matt's Gallery's library and archive. The gallery is currently fundraising for the second phase of the development.
Robin Klassnik, Matt's Gallery Founder and Director said: "Relocating to Nine Elms is a landmark in the history of Matt's Gallery and we are looking forward to making it our home for the next 25 years. I know we have made the right decision for the gallery to continue and flourish. I first opened Matt's Gallery in my studio in the East End in 1979 - over the years we have gained a reputation for our ground-breaking exhibitions and commissions that have helped shape the careers of artists like Willie Doherty, Susan Hiller, Mike Nelson, Jimmie Durham and Lindsay Seers.
"Our programme covers video, performance, painting, sculpture, installation and more and the new gallery will also come to house our publicly accessible library and archive. We are proud to be able to contribute to the area becoming a significant new cultural hub in London and our exhibition programme is free and open to everyone."
What's on at Matt's Gallery
Cold Light
29 April to 17 July 2022, Wednesday to Sunday 12 to 6pm
Cold Light, a new work by Lindsay Seers & Keith Sargent draws on the life, work and ideas of inventor, engineer and futurist, Nikola Tesla. The title of the exhibition references a term used for the first electric lights - no longer reliant on fire for illumination electric light was once referred to as 'cold light.'
Find out more and book free tickets to the exhibition.
MattFlix
Matt's Gallery launched MattFlix, an online project space for artists after the gallery was shuttered in 2020 due to COVID-19. Since its inception, MattFlix has hosted over 30 projects. The programme continues with a series of new commissions with support from Art Fund. Angus Brathwaite launched the new series on 22 April 2022, he will be followed by Anne Bean (May) and Hardeep Pandhal (June). The launch of the commission by Brathwaite took place in tandem with Matt's Gallery unveiling its new website, designed by Fraser Muggerdige Studio.
Coming soon to Matt's Gallery
Later this year Matt's Gallery will present a new archival project by Naomi Pearce.
Pearce is developing an audio essay and archival display in response to items held in the Matt's Gallery archive.
Their inaugural exhibition by Lindsay Seers & Keith Sargent will be followed by an exhibition by Nathaniel Mellors and in 2023, Nicola Bealing.
Find out more about Matt's Gallery and plan your visit.