Balham's Polish White Eagle Club honoured in Downing Street for humanitarian work supporting the people of Ukraine
Published: Friday, April 8, 2022
The humanitarian work of the Balham-based Polish White Eagle Club in supporting refugees fleeing the conflict in Ukraine, has been recognised in a ceremony in Downing Street.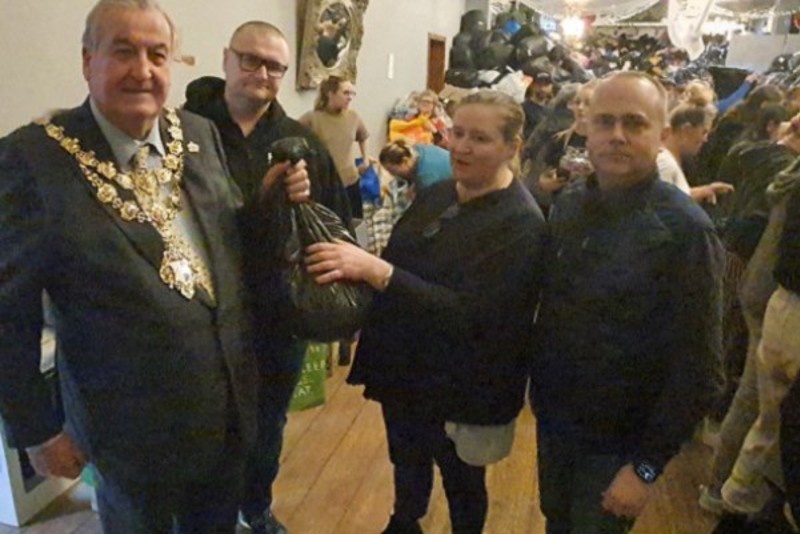 The Polish White Eagle club says its mission is "to serve those on the ground who are affected by the conflict in Ukraine through the provision of much needed supplies".
It adds: "We exist because of an outpouring of help in response to the actions of Russia, which has targeted the civilians of Ukraine, causing the evacuation of millions of people into neighbouring countries, primarily Poland.
"As the war escalates, the requirement for aid and support is growing more and more desperate. Women and children arriving in Poland are in need of basic comforts, while those left behind are increasingly losing access to food, medicine and other vital supplies.
"We supply consumer goods such as food, and drink to the refugee centres in Poland where it is then transported to those in need on both sides of the border. We liaise formally with the Polish agencies including Polish Embassy in London, Ukrainian government, police, army and charities such as Caritas, Mom to Mom, Coordination Centre in Stalowa Wola for 15,000 kids evacuated from the orphanages.
"We provide safe passage for first aid supplies, wound and burn care. These are requests from medical centres and charities on the ground. These contacts ensure that we are able to deliver what is needed at that site.
"By working with authorities in all the countries involved, having the shipping procedures in place and by handling the goods directly, we ensure that the end destination is reached at speed, in a controlled and secure way."
The efforts of the club and its volunteers have been commended by the Mayor of Wandsworth Cllr Richard Field who said: "The Polish White Eagle Club of Balham deserve the utmost praise for their commitment and dedication in delivering humanitarian aid to those in desperate need who have been forced to flee their homeland because of this unnecessary and horrendous conflict.
"It is fitting that their endeavours have been recognised and honoured in Downing Street.

"I would urge those who are horrified by the unfolding events in Ukraine to please give generously to the White Eagle Club so that they can continue their vitally important humanitarian work in support of the people of Ukraine."
To support its work please email info@whiteeagleclub.co.uk
For more information how to support visit www.whiteagleappeal.org
To donate goods please take them to 190Mitcham Road, SW17 7NJ (entrance in Bylton Road)
To make a financial donation please go to https://gofund.me/3bc893da