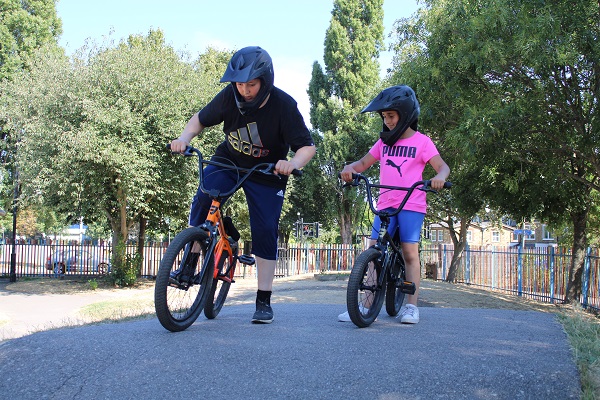 Wandsworth Council, in partnership with local clubs and organisations, put on its most ambitious programme of activities ever, with children eligible for free school meals also enjoying nutritious lunches alongside their chosen activities as part of the Holiday Activity and Food Fund programme.
And for the first time the council brought families together at one-stop Get Connected Hubs, set up at the heart of communities, where they could get a range of support and advice including special needs support, housing, finance, employment and parenting.   
Council officers and representatives from voluntary and community sector organisations were on hand to share information and advice with parents and carers, as well as providing an opportunity for families to be together, chat and connect with each other in their local community.
With something for everyone on offer, children took part in activities including sports, arts and crafts, cooking, drama, music and trips out.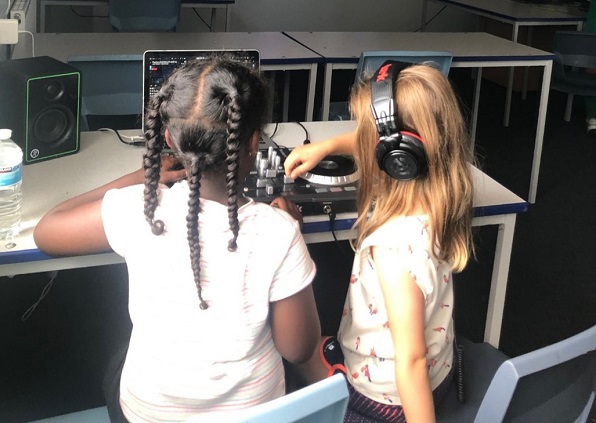 Above: Learning DJ skills with Fit4Kidz
Organisations that took part said they have welcomed the opportunity to work with the council, and be part of the new bolder, brighter campaign to ensure that there were opportunities for everyone to take part and have fun this summer.
Publishing company Penguin Random House, which has recently moved into the borough, visited local youth clubs to inspire young people about publishing, including workshops on book promotion and cover design and discussions on how to improve diversity in publishing.   
Emma D'Cruz, Director at Penguin Publishing said: "We loved being part of the summer programme and were really impressed by the young people's energy, ideas and interest in books which ranged from BookToks, logo designs and detailed book jackets.  They listened really well, they got the concept and showed curiosity and creativity." 
Kimber Skatepark ran activities in their dedicated and purpose-built facilities in King George's Park and out in the community. One young person said: "I loved taking part in the summer camp at Kimber Skatepark. I made new friends and I tried skateboarding and climbing for the first time ever." 
Her mum added: "I was very thankful to be able to access these summer sessions, it meant my daughter wasn't on her phone or watching a screen all summer! They also allowed me to get some work done while she was having fun."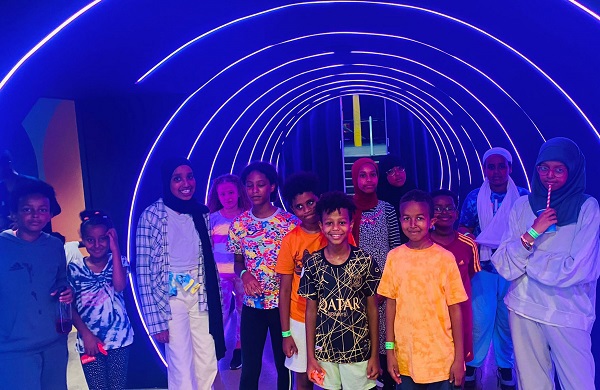 Community organisation Elays (pictured above) ran daily programmes including cooking healthy meals, physical activities and arts and crafts.  Project manager Abdirahman Xirsi said: "It makes us smile to see the programme empower the children and young people - through learning new skills, developing healthy eating attitudes, building confidence and making new friendships" 
Cabinet member for children Cllr Kate Stock said: "This summer we were determined that all children, whatever their background, would have the opportunity to learn new skills, get out and about and have fun. We worked with some fantastic local organisations to put on activities, and we're really grateful for all their enthusiasm and hard work.  
"We made sure information about all the activities was available in one place on our Family Information Service website, and for the first time we organised Get Connected Hubs which helped us reach some of the families that most need our help and advice. 
"The cost of living crisis means that families need our support more than ever. As well as a comprehensive package of activities and advice this summer, we have also brought in help with school uniform costs, and this autumn we will be announcing other measures, including extra support with food insecurity and mental health." 
Find out more about support and activities for families on the Family Information Service.