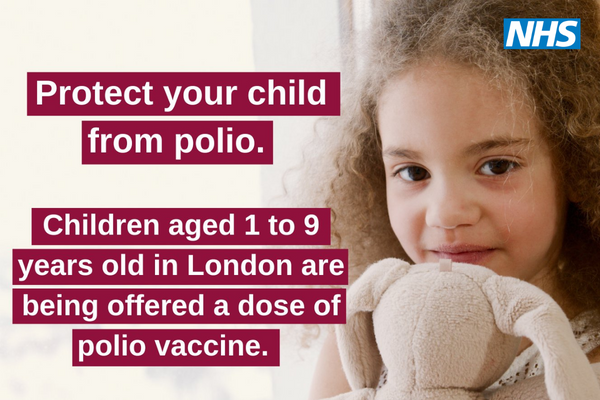 There are signs that polio may be spreading in London and the number of children vaccinated in London is lower than it should be. As such, the Joint Committee on Vaccination and Immunisation has advised that a targeted inactivated polio vaccine booster dose should be offered to all children between the ages of 1 to 9. 
GPs and the NHS have been contacting parents of 1 to 9-year-olds in South West London to invite them to book a vaccination appointment. 
Parents with children, aged between 1 and 4, are being offered an appointment at their GP practice. 

 

Parents with children, aged between 5 and 9, can book an appointment at a local

vaccination clinic

 
Polio is a serious infection that is now very rare because of the vaccination programme. It is a highly infectious disease that can cause total paralysis for any age – but mainly affects children aged three and under. 
For more information on Polio, please visit the NHS webpage. 
Councillor Graeme Henderson, Cabinet member for Adult Health and Social care said, 

"We have been working closely with the NHS to ensure the smooth delivery of the polio vaccine booster programme in Wandsworth. While Polio is a serious infection that can cause paralysis, the polio virus found in London should not pose any risk to those who are fully vaccinated. However, whilst it is spreading, there is a small chance that those who have not been fully vaccinated, or those who cannot respond well to vaccines, could be at risk of catching polio.   
"We want to act now to protect as many children as we can so, please come forward when you are invited if you haven't already".