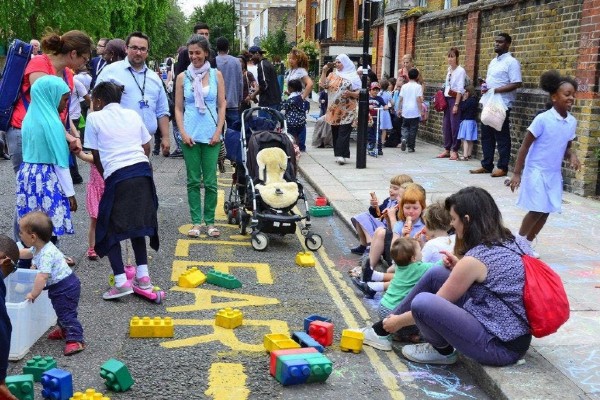 Car Free Day is an annual worldwide event that gives communities the chance to imagine a life without traffic. It also encourages families to come together and enjoy a range of outdoor community celebrations with the focus on play and neighbourhood get-togethers - with no cars, vans or lorries spoiling the fun.
Although Car Free Day is officially being held on Thursday of this week, the event is also being marked this weekend when dozens of streets in Wandsworth are expected to transform into Play Streets as part of the council's support for this year's event and as part of its commitment to Wandsworth's Environment and Sustainability Strategy.
With no through-traffic on these streets over the weekend, children will be able to play outside while adults can enjoy a neighbourhood celebration. To find out if a Play Street is happening where you live, please visit Play Streets for Car Free Day 2022.
To celebrate Car Free Day itself, residents can try travelling on two wheels instead of four on Thursday and beyond through a range of options available locally. These include:
• Bicycle hire from £30 a month as part of the borough's Try Before You Bike scheme which also includes electric versions, cargo and adaptive bikes.
• Free cargo bike hire: Visit the Our Bike website to register to hire one of the three community cargo bikes in the borough or to find out more about the scheme.
• Find out more about quieter cycle routes via CycleStreets, a UK-wide Cycle Journey Planner.
• People over 60 can also use their Older Person's Freedom Pass which gives free travel on the tube, buses, docklands light railway and trams at all times as well as on some Overground and National Rail services.
Wandsworth's cabinet member for transport Cllr Clare Fraser said: "We really hope people will take part in Thursday's Car Free Day by leaving their car keys at home and using other forms of transport, whether that be walking, cycling or using public transport.
"Most journeys in the city are actually very short and could easily and quickly be completed without relying on the car. Not only is walking and cycling much better for people's health and well-being it also helps improve the air we all breathe. That's why we are keen supporters of this year's event and hope it inspires people to permanently change the way they travel."
For more information about Car free Day please visit https://wandsworth.gov.uk/roads-and-transport/streets/street-parties/play-streets-for-car-free-day-2022/.