New council homes to be named after prominent local campaigner
Published: Friday, October 28, 2022
As part of Black History Month, Wandsworth Council have announced their intention to name one of the new blocks in the Patmore Street housing development after the late Sally-Ann Ephson, who was Wandsworth councillor, a local campaigner and much-loved community member.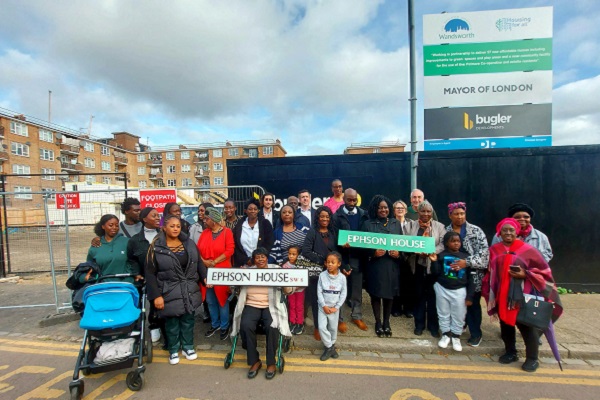 Sally-Ann Ephson moved to Battersea when she was 10 years old and attended Falconbrook Primary School. She was born with Sickle Cell anaemia, an inherited health condition that affects red blood cells. Despite her challenges Sally-Ann followed in the footsteps of her father, Jacob Ephson, who was an active community leader, and became a champion for her local community, especially for people with disabilities and from black or ethnic minority backgrounds.
Sally-Ann served on the board of the Sickle Cell Society, advocating for health care reform for those suffering with the condition, and went on to serve on Wandsworth Council between 2014-2016 before she sadly passed away from the disease.
Sickle Cell predominantly affects people of Black African or Caribbean heritage and there are roughly 15,000 people in the UK suffering from this long-term condition. Currently Sickle Cell patients are not entitled to free prescriptions but campaigners are hoping to change that.
Deputy Leader of Wandsworth Council, Kemi Akinola said:
"This site will provide 57 brand new council homes for local people and their families. It's brilliant we can name one of these buildings after such a kind local figure and also raise awareness about the condition that played such a large part of her life and campaigning."
John Jones OBE, Chief Executive of the Sickle Cell Society said:
"We are delighted that during black history month, Wandsworth Council are celebrating the naming of one of their Patmore Street Council blocks after the late Cllr Sally-Ann Ephson. She would be very proud. Sally-Ann lived with sickle cell anaemia and worked tirelessly locally and as a trustee of our Society to improve services for people living with sickle cell."
Battersea MP Marsha de Cordova said: "Councillor Sally-Ann Ephson left an incredible legacy in Queenstown and Battersea. She was dedicated to serving and representing her local community. It great that we now have a permanent memorial honouring her legacy."