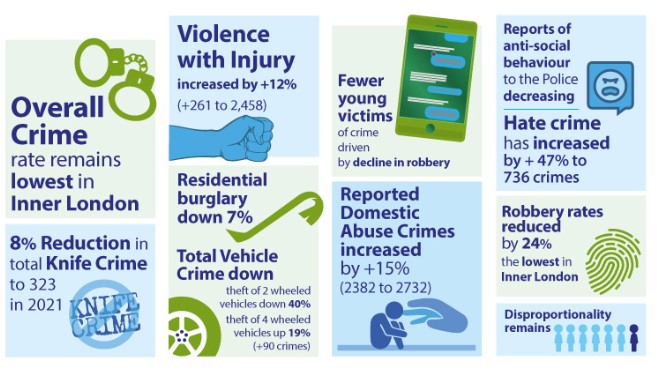 The Wandsworth Community Safety Partnership, which includes the police, council, fire brigade and other public bodies, is currently drafting its new Community Safety Strategy and wants to ensure that the priorities it identifies accurately reflect the views and priorities of local residents and businesses.
The consultation's findings will help shape the new strategy and set out the actions the partnership will take to improve the safety and quality of life for communities in Wandsworth.
Key priorities that are likely to feature in the strategy include:
• Ensuring neighbourhoods are safe by tackling crime and anti-social behaviour including burglary and motor vehicle crime as well as violent crime such as robbery and knife crime.
• Preventing violence against women and girls.
• Preventing offending and reducing reoffending.
• Tackling hate crime, extremism and radicalisation.
• Keeping children and young people safe.
Wandsworth's lead spokesperson on community safety Cllr Graeme Henderson said: "Listening to the views and concerns of our local communities is important in ensuring that we get the strategy right and addresses the issues and concerns which have the most impact on our residents and businesses.
"The partnership has certainly seen some notable successes in tackling the types of crime that most concern the public, but we must not be complacent and must continue our efforts to drive down offending and tackle all crime types."
To take part in the consultation please visit the council's website. To request a copy of the questionnaire in an alternative format, please email consult@wandsworth.gov.uk or call (020) 8891 7777.
To find out more about local crime trends and community safety issues, please visit https://haveyoursay.citizenspace.com/wandsworthced/cs-22/user_uploads/20220902-ww-sa-on-line-surveyfinal-vr.pdf.
The Wandsworth Community Safety Partnership brings together Wandsworth Council, the Metropolitan Police, London Fire Brigade, NHS partners, the criminal justice system including the Probation Service as well as community and voluntary sector organisations involved with crime reduction and community safety in the borough.