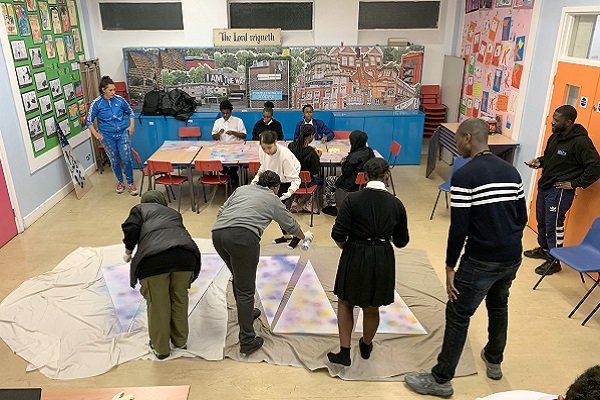 The Deconstructed Disco will be in Clapham Junction from Wednesday October 26 to Sunday October 30, with a video projection touring the borough every evening.   
The council is currently consulting on Wandsworth's new Night Time Strategy, which will look at the borough between 6pm and 6am. It wants to hear from people who live in the borough and who visit to enjoy the vibrant night-time economy, as well as people who work to keep the city running, like nurses, policemen, cleaners, hospitality staff and security guards. Have your say on the night time in Wandsworth to help shape the new Strategy.
The Deconstructed Disco artwork is part of a series of projects taking a creative and collaborative approach to communicate the aims of the strategy to local people otherwise unlikely to engage with a planning consultation, especially young people, the LTGBQ+ community and night time workers.  
It has been co-produced with young people attending the Devas and Providence House youth clubs in Clapham Junction and will be based nearby next to the nearby Falcon Road underpass, an area highlighted as somewhere that could feel safer at night. 
Deputy council leader Cllr Kemi Akinola and safety and wellbeing champion Cllr Lizzy Dobres are also working with the Mayor of London and Nigh Czar Amy Lamé on improving the night time economy. Cllr Akinola said: "I am looking forward to seeing the Deconstructed Disco. It's a fun way to encourage local people to think about what sort of borough they want to see at night, and by touring the borough during the evening we hope to engage with the many people who work at night to hear their thoughts and experiences of Wandsworth after dark."  
During the day the physical artwork will be at the underpass near Clapham Junction station. In the evening the video screenings will visit places across the borough where people say they feel unsafe, such as pedestrian passages and back streets.  
The Deconstructed Disco is funded by a grant from the Government's Proptech fund to use innovative tools to engage with local people.  
The Night Time Strategy is currently in development and will be published for consultation in December 2022 for adoption in Spring 2023. Find out more.  
Where to see the Deconstructed Disco 
During the day 
Oct 26-30, noon-5pm: Open space by Falcon Road Underpass, 22 Grant Road, Clapham Junction  
Night Time Projection 
Oct 26, 6.30pm-8pm: Falcon Road Underpass 
Oct 27, 7pm-8pm: Courtyard behind the Penfold Centre, 1 Neville Gill Close, Wandsworth Town 
Oct 28, 7pm-8pm: Outside Roehampton Library, 2 Danebury Avenue 
Oct 29, 7pm-8pm: Open space near Thessaly Road oppose 20 Ascalon Street, Nine Elms 
Oct 30, 7pm-8pm: Opposite the back entrance to Sainsburys, Tooting