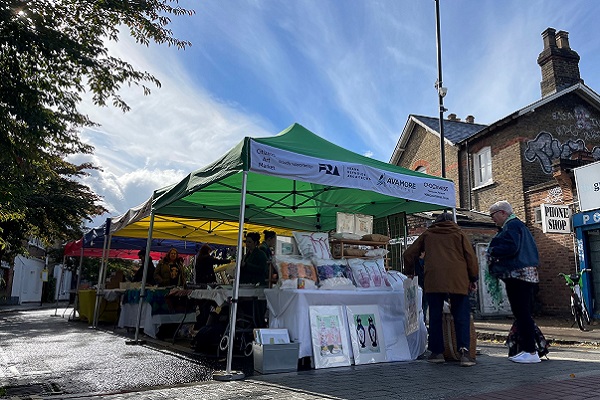 The council's arts team is working with Citizen's Art London to put on Wandsworth Arts Markets and workshops over the weekend of December 3 and 4. They will pop up in Tooting, Putney and Nine Elms, displaying the work and talents of artists from across the borough.
There will also be a series of art trails bringing artists and local businesses together. The events will enable local people to enjoy a weekend festival of arts and culture and will give artists and makers an opportunity to show and sell their work and connect with fellow creatives.
The project has grown out of the council's commitment to champion Wandsworth's artists, and safely showcase their work in the wake of Covid-19.
Wandsworth Art was launched in 2020 to nurture and support artists and bolster creative networks, while throughout 2021-22 Framed turned the borough's streets into vibrant outdoor art galleries, with works by local artists – selected from Wandsworth Art – displayed on lamppost banners and in shop windows.
Councillor Kemi Akinola, Wandsworth Council's Deputy Leader and cabinet member for the voluntary sector, business engagement and culture said: "Wandsworth Council has worked to bring art to our screens, our high streets and, over the summer, the amazing Wandsworth Arts Fringe in a variety of places across the borough.
"We are committed to providing local artists with new accessible platforms to share their talents with their neighbours. I am delighted to be able to offer Wandsworth's artists this opportunity to showcase and sell their work, as we invest in creative careers, and in the future of our borough as a thriving cultural home for artists and residents."
Applications for local artists to take part in the markets, workshops or trails are open now and close on Thu 3 November.
For full information and to apply visit www.citizensart.london/wandsworth-art-markets.